MTN Ranks Third Nationally for Donation, Transplantation Rates
(Last Updated On: June 27, 2023)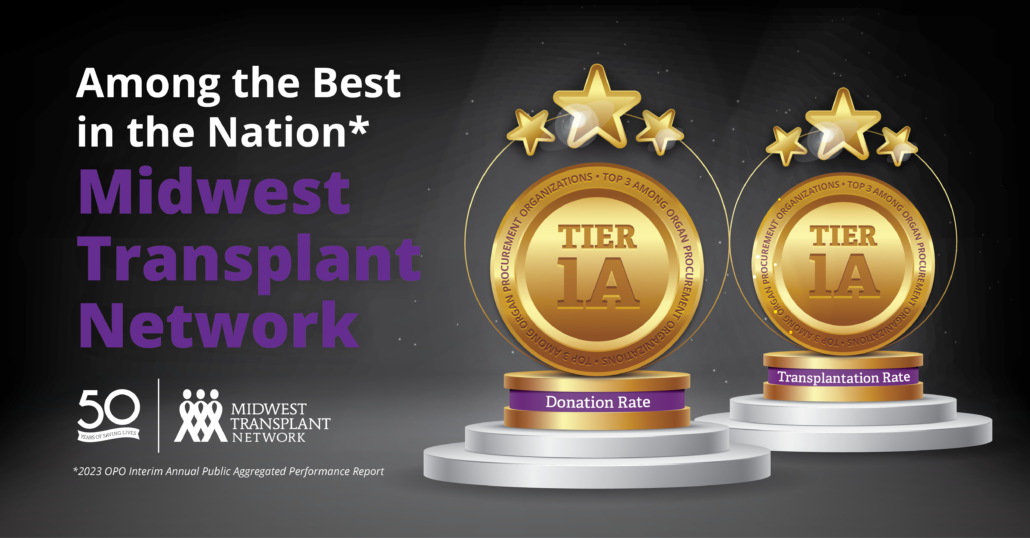 The Centers for Medicare & Medicaid Services (CMS) released the 2023 OPO Annual Public Aggregated Performance Report, which outlines individual organ procurement organization (OPO) performance in 2021, the most recent year for which data is available.
The report notes that of 56 federally certified U.S. OPOs:
15 — including Midwest Transplant Network — are Tier 1 (26%),
18 are Tier 2 (32%) and
24 are Tier 3 (42%).
This report places all OPOs into one of three tiers based on donation and transplantation rates. Tier 1 OPOs have the upper 95% confidence limit at or above the top 25th percentile cutoff for both the donation and transplantation rates. Each OPO's tier ranking also has a letter associated with it; A is the highest-possible performance for that tier and E the lowest.
MTN ranks No. 3 nationally for both donation and transplantation rates; it has been in the top three OPOs for both rates all three years that this report has been released.
Midwest Transplant Network's assessment rating in Tier 1A reflects the quality, professionalism and excellence in partnerships throughout our service area, as well as the incredible generosity of organ, eye, and tissue donors and their families. It also reflects the commitment our staff members have to saving lives by honoring the gifts of organ, eye and tissue donation.
To learn more, view the full performance report.
https://mwtn.org/wp-content/uploads/2023/05/AOPO-Top-Tier-Status-Graphic-rev2.png
2613
5000
Midwest Transplant Network
https://mwtn.org/wp-content/uploads/2023/02/MTN-50-Year-Horizontal-Full-Color-1030x302-1.png
Midwest Transplant Network
2023-05-05 10:07:03
2023-06-27 11:21:07
MTN Ranks Third Nationally for Donation, Transplantation Rates