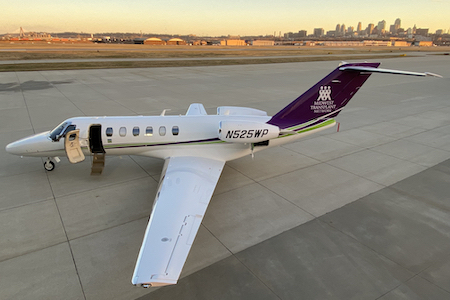 (Last Updated On: July 21, 2022)
Behind the scenes of organ donation, there are many moving parts that make the gift of life possible. This symphony of motion must come together in near-perfect harmony. One of the often-unseen heroes of the organ donation process within our service area is Midwest Transplant Network's Aviation team. Ed Coleman, Aviation Manager, manages the transport of lifesaving organs as well as transplant teams from across the country and our service area.
His 38 years of experience in aviation have spanned nearly every realm of the industry. What is different about his service to MTN? It is the organizational mission. In many instances, aviation is not essential to the function of an organization. "In the business realm, if things start to drop, the first thing you do is get rid of the perks," he said. "This isn't a perk for us. This is an essential piece of the puzzle to make everyone's job work."
Like many MTN staff members, the aviation department operates mostly on an on-call basis. The schedule is demanding, but especially for parents of young children. Corporate Pilot Kelly Timmermann values her work at MTN because it ensures that her "time away from home is worthwhile". Timmermann, a former executive officer in the A10 Squadron at Whiteman AFB, appreciates the flexibility Coleman and her aviation coworkers provide.
"Ed is usually able to get me all the days off that I need," Timmermann said. "So, I can feel good when I come to work because things are tidy at home."
Coleman monitors cases across the MTN service area to give his pilots ample awareness of possible flight calls. "I really appreciate that most of the time, we have a decent idea of [whether] we will be flying or not to kind of mentally prepare," Timmermann said.
For Timmermann and Coleman, working for MTN is a great way to continue their aviation careers while facilitating the life-saving gift of organ donation. "The mission we have helps people daily," Timmermann said. "When we go fly, it truly helps somebody. That is very validating for me."
Now Hiring!
The MTN aviation team is currently hiring both full-time and PRN corporate pilots. If you are a licensed pilot or aviation student looking for mission-driven work for a dynamic and growing organ procurement organization, apply here.
https://mwtn.org/wp-content/uploads/2022/07/MTN_Plane_Feature.jpg
300
450
Midwest Transplant Network
https://mwtn.org/wp-content/uploads/2023/02/MTN-50-Year-Horizontal-Full-Color-1030x302-1.png
Midwest Transplant Network
2022-07-21 08:26:55
2022-07-21 09:23:34
MTN Aviation