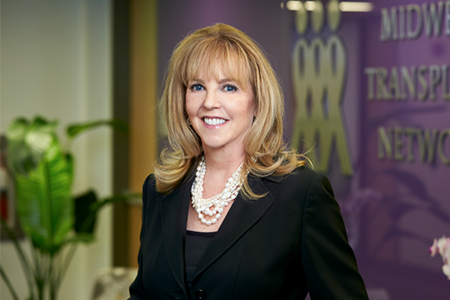 MTN President/CEO Jan Finn Becomes AOPO President-Elect
VIENNA, Va. (July 2, 2020) — The Association of Organ Procurement Organizations (AOPO) has named Midwest Transplant Network (MTN) President/Chief Executive Officer Jan Finn, RN, MSN its President-Elect. This role includes significant responsibilities with AOPO — the nonprofit organization representing the 58 federally designated organ procurement organizations — including leading the strategic planning process, collaborating with AOPO councils, and advocating nationally for issues as they relate to donation and transplantation.
With this appointment, Finn will serve on AOPO's Executive Committee for three years and will assume the role of President for 2021-2022. As AOPO President, Finn will be the organization's spokesperson and Chairman of the Board of Directors and also will serve as a member of the United Network for Organ Sharing (UNOS) Board of Directors
"I am honored to represent MTN, those in our service area and the entire organ procurement organization (OPO) community," said Finn. "AOPO is actively involved in advocacy for all donor families and recipients in ensuring each OPO strives for excellence in donation practice to ensure desperately needed organs for transplantation, and I am happy to lend my voice to such meaningful work."
Throughout her time on AOPO's Executive Committee, Finn said she hopes to foster collaboration between OPOs to provide a unified voice as the national industry expert
"My goal is to engage OPOs with known best practices to help those at other OPOs so we all can truly maximize the gift of life through organ, eye and tissue donation," she said.
About Midwest Transplant Network
Midwest Transplant Network has been connecting lives through organ donation since 1973. As the federally designated not-for-profit organ procurement organization (OPO) for Kansas and the western two-thirds of Missouri, Midwest Transplant Network provides services including organ procurement; surgical tissue and eye recovery; laboratory testing; and 24-hour rapid response for referrals from hospital partners. Midwest Transplant Network ranks in the top 10% in the country among OPOs, which reflects the organization's quality, professionalism and excellence in partnerships throughout the region. For more information, visit mwtn.org.
About the Association of Organ Procurement Organizations
The Association of Organ Procurement Organizations (AOPO) leads the nation's organ donation process through innovation, advocacy and education. AOPO advances organ donation and transplantation by driving continual improvement of the donation process, collaborating with stakeholders and sharing best practices with their organ procurement organization members. For more information, visit aopo.org.
https://mwtn.org/wp-content/uploads/2020/07/Blog-450x300-Feature-Image-Jan-Finn.png
300
450
Midwest Transplant Network
https://mwtn.org/wp-content/uploads/2023/02/MTN-50-Year-Horizontal-Full-Color-1030x302-1.png
Midwest Transplant Network
2020-07-02 15:44:44
2021-12-09 12:04:16
MTN President/CEO Jan Finn Becomes AOPO President-Elect