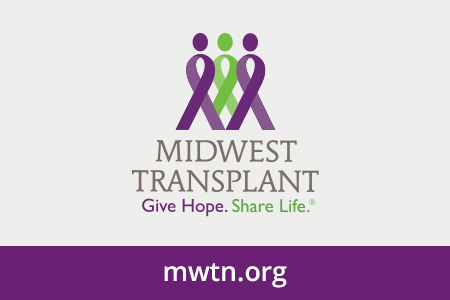 Organ, Eye and Tissue Donors Saved or Improved Record Number of Lives in 2019
(Last Updated On: December 9, 2021)
WESTWOOD, Kan. (Jan. 22, 2020) — Midwest Transplant Network is celebrating a record year in 2019, surpassing its previous milestones for number of organs transplanted, organ donors, eye/tissue donors and laboratory tests performed.
Midwest Transplant Network, the not-for-profit organ procurement organization serving Kansas and the western two-thirds of Missouri, enabled 929 lifesaving organ transplants — a 14% increase compared with 2018. Those gifts came from 282 donor heroes, which represented an 4% increase. MTN also procured gifts from 1,895 eye/tissue donors, a jump of 13% from 2018.
"Our record-breaking year is a testament to the selflessness of our donor heroes and their families, our hard-working staff and our dedicated hospital and community partners," said President and Chief Executive Officer Jan Finn, RN, MSN. "I'm honored to have colleagues such as our clinical staff who work around the clock to care for donor heroes; those who support donor families throughout their grief journeys; those who ensure safety for transplant recipients in our lab; those who educate the community about the donation registry; those who work with our hospital partners; and the transplant center teams who care for the recipients."
MTN's award-winning histocompatibility lab performed 8% more tests compared with the previous year, totaling 31,277 tests assessing blood work for potential matches for organ, tissue and bone marrow transplantation, as well as post-transplant monitoring.
MTN's performance metric increases reflect a national upward trend for the organ transplant system. The United Network for Organ Sharing reports that nationwide, clinical workers performed nearly 40,000 lifesaving transplants — the seventh consecutive record-breaking year for this data point and a 9% increase from 2018.
Despite transplant increases nationally and locally, the waiting list grows. More than 112,000 people around the country need a lifesaving organ transplant — with 446 of those people living in Kansas and 1,725 in Missouri.
MTN also continues its comprehensive multiyear initiative known as the Green Ribbon Campaign to raise awareness and encourage registration to the organ donor registry. The goal is to promote recognition of the green ribbon as a badge of honor representing the selfless act of becoming a registered organ, eye and tissue donor and the lifesaving impact that donation can provide.
Supporting the campaign are the Green Ribbon Champions, a diverse group of local and regional leaders and well-known personalities who are passionate about increasing the number of registered organ donors in our communities across Kansas and Missouri.
As a result of the campaign and MTN's other awareness efforts, 80% of adults in Kansas and 78% in Missouri are registered organ donors. While those numbers are strong, MTN is committed to raising them even higher in 2020 because the need for donors still outpaces the number of registrants.
"While I am incredibly proud of the care our staff provided donors, donor families and recipients in 2019, we have so much more work to do to ensure we continue saving more lives and driving more people to the donor registry," Finn said. "With the support we receive from our outstanding hospital partners, transplant centers, DMV offices and volunteers, the possibilities for what we can accomplish are limitless."
* National transplant numbers, national waiting list number and state waiting list numbers as of Jan. 16, 2020.
About Midwest Transplant Network
Midwest Transplant Network has been connecting lives through organ donation since 1973. As the federally designated not-for-profit organ procurement organization (OPO) for Kansas and the western two-thirds of Missouri, Midwest Transplant Network provides services including organ procurement; surgical tissue and eye recovery; laboratory testing and 24-hour rapid response for referrals from hospital partners. Midwest Transplant Network ranks in the top 10% in the country among OPOs, which reflects the organization's quality, professionalism and excellence in partnerships throughout the region. For more information, visit mwtn.org.
https://mwtn.org/wp-content/uploads/2021/04/Blog-Post-Featured-450x300-MTN-Generic-Vertical.jpg
300
450
Midwest Transplant Network
https://mwtn.org/wp-content/uploads/2023/02/MTN-50-Year-Horizontal-Full-Color-1030x302-1.png
Midwest Transplant Network
2020-01-22 14:45:18
2021-12-09 12:16:54
Organ, Eye and Tissue Donors Saved or Improved Record Number of Lives in 2019