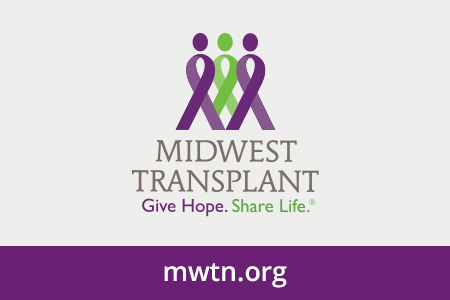 Midwest Transplant Network Performs Well Under Federally Proposed Rules to Enable More Organ Transplants
WESTWOOD, Kan. (Dec. 26, 2019) — The U.S. Department of Health and Human Services (HHS) recently announced a proposal aimed at increasing the availability of organs for those waiting for a transplant and improving the accountability of organ procurement organizations (OPOs). Midwest Transplant Network (MTN), the OPO serving Kansas and the western two thirds of Missouri, ranks near the top of the nation's 58 federally designated OPOs using metrics associated with the proposal.1
Based on the proposal, beginning in 2022, all OPOs will need to perform at rates consistent with the top 25% of OPOs' current donation and transplantation rates. When considering 2017 metrics, MTN ranks third nationally in OPO transplant rate and fourth in donor rate.
The Centers for Medicare & Medicaid Services (CMS) proposal stems from President Donald Trump's July 2019 executive order on advancing American kidney health.
CMS' proposed rule would update conditions for coverage that OPOs must meet to receive reimbursement for procurement services from Medicare and Medicaid. Currently, the federal government assesses OPOs' performance through self-reported data. The proposed rule will go into effect in 2022, at which point the government will use revised outcome measures to assess OPO performance with several goals: ensuring OPO performance is transparent and strong; supporting higher donation rates; helping shorten transplant waitlists; decreasing the number of discarded but viable organs and increasing safe, timely, lifesaving transplants.
"We're excited to continue saving lives in partnership with our local hospitals and transplant centers, and our results demonstrate we are doing a great job," said Midwest Transplant Network President and Chief Executive Officer Jan Finn, RN, MSN. "We are always looking for ways to improve and learn from other high-performing OPOs. We strongly support metrics that provide accountability for every organ procurement organization and transplant center to evaluate best practices."
1 Using 2017 data and looking at donation rate measure and transplantation rate measure. Source: HHS.gov
About Midwest Transplant Network
Midwest Transplant Network has been connecting lives through organ donation since 1973. As the federally designated not-for-profit organ procurement organization (OPO) for Kansas and the western two-thirds of Missouri, Midwest Transplant Network provides services including organ procurement; surgical tissue and eye recovery; laboratory testing and 24-hour rapid response for referrals from hospital partners. Midwest Transplant Network ranks in the top 10% in the country among OPOs, which reflects the organization's quality, professionalism and excellence in partnerships throughout the region. For more information, visit mwtn.org.
https://mwtn.org/wp-content/uploads/2021/04/Blog-Post-Featured-450x300-MTN-Generic-Vertical.jpg
300
450
Midwest Transplant Network
https://mwtn.org/wp-content/uploads/2023/02/MTN-50-Year-Horizontal-Full-Color-1030x302-1.png
Midwest Transplant Network
2019-12-26 11:55:36
2021-12-09 12:17:11
Midwest Transplant Network Performs Well Under Federally Proposed Rules to Enable More Organ Transplants