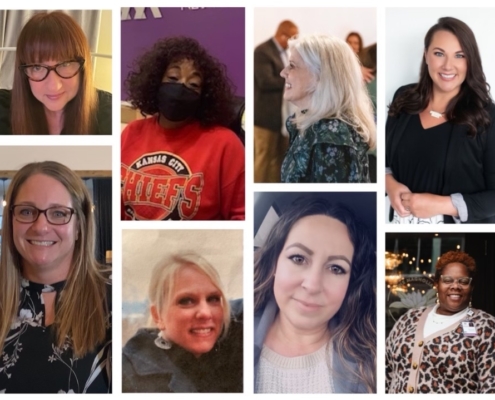 As we continue highlighting departments throughout Midwest Transplant Network, we hear now from our talented Administrative Assistant team that is behind so much of the organization's success.
MTN Administrative Assistant staff members:
Melissa Anderson, Administrative Assistant (IT, Community Education, Donor Family Aftercare)
Kathy Brown, Administrative Assistant (Wichita and Columbia Regional Offices)
Rikki Burke, Administrative Assistant (Organ Procurement, Tissue Services, Donation Services, Family Services)
Susan Hubbard, Executive Assistant to CEO
Brande' Johnson, Administrative Assistant to Senior Directors
Kim Martin, Customer Relations and Communications Coordinator
Terra Price, Administrative Assistant (Hospital Services, Laboratory Services, Quality, Education)
Heather Sics, Administrative Assistant to Executive Management
Briefly describe what Administrative Assistants do.
MTN Administrative Assistants are responsible for the daily administrative support of 10 unique departments; the executive and senior leadership teams; MTN regional offices; and customer relations for all incoming calls, visitors, patients, vendors and guests for the organization. Our team is involved in all aspects of MTN's operations to support our mission of saving and enhancing lives through organ, eye and tissue donation. Our admins schedule and support all organizational meetings; maintain calendar awareness and provide meeting and specific project support to leadership; coordinate symposiums, conferences and events; plan travel and deliver monthly expense reporting, in addition to numerous additional activities.Admins are often the first point of contact for incoming requests to the organization. The team takes pride in working and engaging with our customers — whether they be donor family members, patients, partners, vendors or visitors of MTN.

What internal departments and roles do Administrative Assistants work with?
Our team supports 10 departments, three offices, 10 senior leaders and initiatives throughout the organization.Additionally, Administrative Assistant staff members support several MTN governing bodies as well as Strategic Planning and specialty committees, including:
MTN Governing and Advisory boards
MTN Governance, Executive, Finance and Compensation committees
Five Strategic Planning committees and additional subcommittees
Two organizational committees

How do you support your teammates when you all support such different teams and types of work?
"For me, it's a matter of jumping in where I can. If the help is needed, be there, or ask in the midst of the work.  There's always something that can be done."
— Brande' Johnson
"I support my teammates in all their different roles by making sure they each have what they need to get their jobs done, and I love finding ways I can make their jobs easier and more efficient."
— Kathy Brown
Tell us about some of the events your department plans and creates for MTN.
"I support our Donor Family Aftercare and Community Engagement & Public Relations departments, which host the majority of MTN's events. One of my favorite MTN events is our annual Donate Life Legacy Walk. My first Legacy Walk was our second year, and seeing this event grow from 250 to over 1,000 attendees has been amazing. I love that this is the one event where all with connections to donation come to honor a loved one, share a story, celebrate with one another and spread the message of organ, eye and tissue donation." — Melissa Anderson
The Administrative Assistant team participates in the planning and execution of nearly all MTN events — which is a significant undertaking, with more than 50 events held annually. Administrative staff members work in partnership with executive leadership and various departments to produce both internal and external events that reach a variety of audiences. These audiences include members of our communities who champion organ donation; colleagues, hospital partners and clinicians who contribute to the fields of organ, eye and tissue donation and transplantation; family members and supporters of our organ, eye and tissue donor heroes; MTN staff members and volunteers; and MTN governing bodies, to name a few.
What is the one thing you'd want to tell someone who knows nothing about your work?
Every day is completely different. We are the team that seamlessly makes sure everything is right where you need it to be, when you need it. It's the classic image of the iceberg: the work you see above water and the massive amount that is contained below. The more flawless an event comes across to the audience, the more work that was put in behind the scenes to create that environment.
What inspires you or gives you a sense of fulfillment about your work in support of MTN's mission?
"The opportunity to be a small part of fulfilling the organization's mission by being of service to others."
— Brande' Johnson
"It gives me much pride to know that my efforts are going into saving lives rather increasing profit."
— Susan Hubbard
"I am inspired when I hear successful donor stories and stories of collaboration between MTN and the hospital staff."
— Kathy Brown
Why should people say "yes" to organ, eye and tissue donation?
A YES to donation is one of the most selfless and generous things a person can do. We all have an opportunity to create a ripple effect and touch the lives of so many. By saying "yes," you provide hope to the thousands of people who are awaiting a transplant.

Anything else you'd like to add?
The Administrative Assistant team is growing as MTN continues to grow. We are currently looking for a passionate and experienced Administrative Assistant to support our Sr. Directors of Strategy and Information Technology, and our Chief of Laboratory Services. If you are interested in joining an exceptional team at a critically important, mission-based organization, we would love to speak with you! View the full job description and apply today.
https://mwtn.org/wp-content/uploads/2022/12/Admin_Assist_Featured.jpg
300
450
Midwest Transplant Network
https://mwtn.org/wp-content/uploads/2023/02/MTN-50-Year-Horizontal-Full-Color-1030x302-1.png
Midwest Transplant Network
2022-12-20 08:50:46
2022-12-21 09:43:15
Administrative Assistant Spotlight