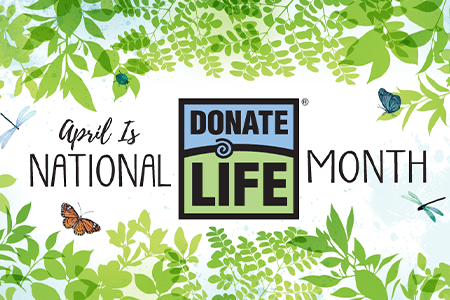 Celebrating the Gift of Life in the Era of COVID-19
(Last Updated On: December 9, 2021)
This year's National Donate Life Month (NDLM) looks different from those in the past. Donor remembrance ceremonies are postponed, office decorating parties are canceled and everyone's thoughts are largely consumed by the novel coronavirus.
But just because most people in our donor service area will spend all of April living under shelter-in-place orders doesn't mean we don't all have cause for celebration. We all can honor and remember those who have given the gift of life through organ, eye, and tissue donation and educate people on the importance of donation. We can — and should — use this time to give hope and share life in support of the 112,000 people currently awaiting a lifesaving organ transplant and countless others who could benefit from a tissue transplant.
Here are some ways to participate in NDLM from home:
Join the organ, eye and tissue donor registry if you have not already done so at ShareLifeMidwest.com.
Share your donation decision with your family and ask about their wishes.
Tell your friends about the importance of joining the organ, eye, and tissue donor registry over the phone or on a video call, and encourage them to pass the message on to their social circles.
Share or comment on MTN's social media posts. You can find us on Facebook, Instagram, Twitter, LinkedIn and YouTube.
Draft your own social media posts and use graphics from MTN's NDLM toolkit. Don't forget to tag Midwest Transplant Network and use #GiveHopeShareLife.
Update your Facebook profile picture with a National Donate Life Month frame.
Deck your family out in blue and green in support of donation, then take a photo and participate in Donate Life America's Facebook photo contest.
Snap a selfie while wearing blue and green on National Donate Life Blue & Green Day (Friday, April 17), then post it to your social media channels and talk about the significance of the day. Use #GiveHopeShareLife and tag Midwest Transplant Network so we can "like" and share your posts.
Record a short video explaining what donation means to you and why it's important. Upload it to your social media accounts, tagging Midwest Transplant Network and using #GiveHopeShareLife so we can see your creativity at work.
Draw or design a picture of a green ribbon, then hang it in a window or door of your house for neighbors to see as they walk by. Tell them what the green ribbon signifies when they ask (from a safe social distance), then ask them to involve their kids and create their own pictures.
Be creative and color green ribbons and "Give hope. Share life." messages with chalk on your sidewalk or driveway. Don't forget to take a picture of your creation, share it on social media, tag Midwest Transplant Network and use #GiveHopeShareLife.
Thank clinicians and others who impacted you or your loved one during the donation process. Whether it's a nurse, social worker, physician or janitorial staff member, people will appreciate knowing the impact they made in your life or your loved one's.
No matter how you celebrate, we hope you take time to remember the many donor heroes who have given the gift of life to grateful recipients in our community and beyond. Happy NDLM!
https://mwtn.org/wp-content/uploads/2020/04/Blog-450x300-Post-Image-NDLM.png
300
450
Midwest Transplant Network
https://mwtn.org/wp-content/uploads/2023/02/MTN-50-Year-Horizontal-Full-Color-1030x302-1.png
Midwest Transplant Network
2020-04-07 12:13:16
2021-12-09 14:46:53
Celebrating the Gift of Life in the Era of COVID-19