At Midwest Transplant Network, we proudly work with donor families to create quilts in honor of loved ones who have given the gift of life through organ donation. These beautiful tributes to lifesaving donors travel with us to events throughout Kansas and western Missouri. They are a powerful symbol that helps raise awareness about organ, eye and tissue donation while honoring those individuals who have given gifts of life. View our donor memorial quilts below.
In order to be included in our Donor Memorial Quilts, quilt squares must meet specified guidelines. For more information, please contact us or view our FAQs.
Quilt 5
Scroll sideways to view whole quilt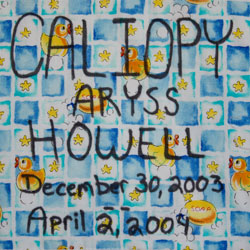 Quilt 5: Caliopy Aryss Howell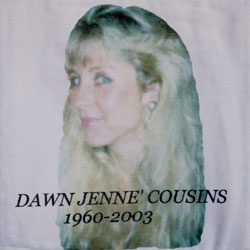 Quilt 5: Dawn Jenne' Cousins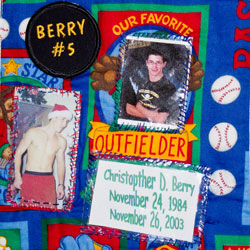 Quilt 5: Christopher D. Berry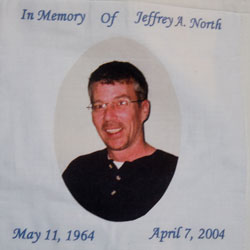 Quilt 5: Jeffrey A. North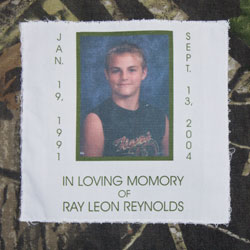 Quilt 5: Ray Leon Reynolds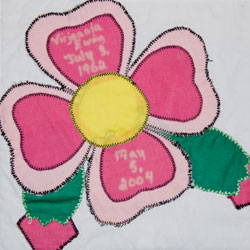 Quilt 5: Virjeania Ewing
07/03/1962 – 05/05/2004
This is a story about our daughter, Virjeania Ewing She was one of a kind! When she was little she didn't like to take meds if she was sick. She would say, "Daddy I don't like that" and he would say, "that's okay, it is good for you." So she would say, "I will take it for you, Daddy." And then she said, "Give it to me Mommy." Then she got older and had two little girls of her own. And then she married her love, Bobby Ewing, and moved to Kansas, where she got killed and went to heaven. She is now with God and her husband and Grandparents. We love her very much and miss her. May God Bless our Angel
Love Mom and Dad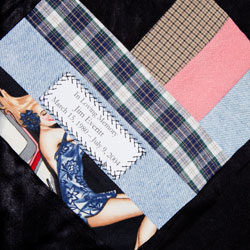 Quilt 5: James (Jim) Edward Everitt
03/15/1980 – 07/09/2004
He was handsome and stood tall at 6'5". He befriended everyone. On July 9, 2004, Jim suddenly died of an aneurysm of the ascending aorta in his heart. The funeral home could not hold all of those in attendance, a tribute to the life he led. Jim discussed organ donation and assured me he wanted to have his organs donated. We know his organ recipients are blessed to carry a piece of such a wonderful man. In Jim's remembrance quilt square are pieces of his favorite jeans, a portion of his oil rag he carried in his jean pocket when working on his Mustang, and pieces of his favorite shirts. There is no greater gift than a child and that child's love. Jim's gift of love continues through his organ donation and we carry the treasured memories of a wonderful son and brother.
Sincerely, Becky & Rex Wyre (proud mother and step-father of Jim) Katy Everitt (Jim's youngest sister)
Quilt 5: Terry Cook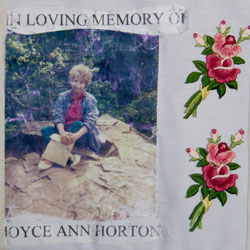 Quilt 5: Joyce Ann Horton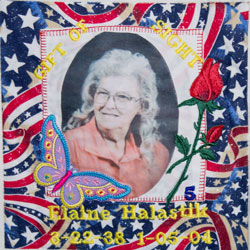 Quilt 5: Elaine Halastik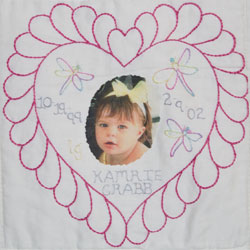 Quilt 5: Kamrie Crabb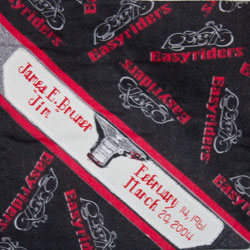 Quilt 5: James E. Brewer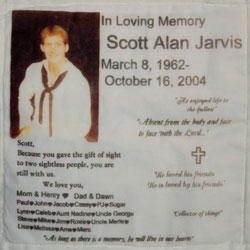 Quilt 5: Scott Alan Jarvis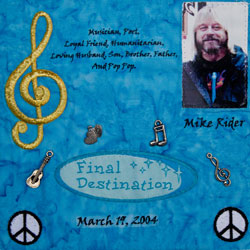 Quilt 5: Mike Rider
Quilt 5: Gary Goodman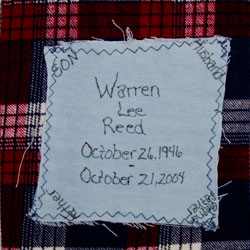 Quilt 5: Warren Lee Reed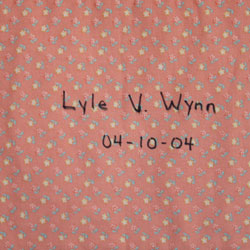 Quilt 5: Lyle V. Wynn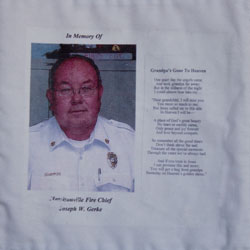 Quilt 5: Joseph W. Gerke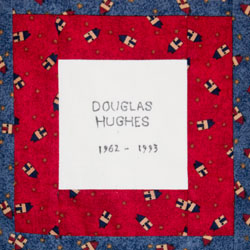 Quilt 5: Douglas Hughes
1962 – 1993
It was 13 years ago when Doug had the wreck. Doesn't seem that long, seems only yesterday. I miss his smile and his jokes. He could always make me laugh when I was sad or worried about something. He was with me when his Dad passed away. Couldn't have made it without him. Now his brother has cancer. Wished he was here to complete me.
Mrs. Eva (Hughes) Howell, Doug's mother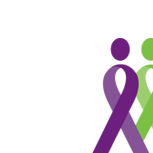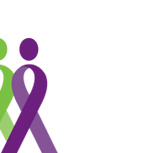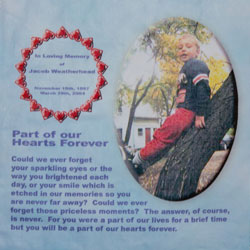 Quilt 5: Jacob Weatherhead
11/19/1997 – 03/29/2004
WHAT I LEARNED FROM JACOB
I LEARNED WHAT DETERMINATION AND FREE SPIRIT CAN DO. IT CAN FRUSTRATE, AMAZE AND CAPTURE THOSE AROUND YOU.
I LEARNED WHAT FRIENDLINESS CAN DO. IT IMMEDIATELY TURNS A STRANGER TO A FRIEND.
I LEARNED THE POWER OF A SMILE, I LEARNED THERE ARE SMILES AND THEN THERE ARE "JACOB SMILES'. A JACOB SMILE COMES FROM THE HEART, AND IS REFLECTED IN THE EYES. IT MELTS THE MOST STERN MOMENT OF DISCIPLINE AND IS TRULY A PRECIOUS GIFT TO HAVE SEEN A "JACOB SMILE".
I LEARNED THE VALUE OF PATIENCE AND THAT I NEEDED MORE.
I LEARNED THE VALUE OF IMAGINATION. THE WHOLE WORLD CAN BE TRANSFORMED TO ANYTHING YOU WANT WITH IMAGINATION. IT CAN BE FUN, IT CAN BE SERIOUS, AND IT CAN BE AN ADVENTURE AND NEVER LEAVE THE ROOM.
MOST OF ALL I LEARNED WHAT LOVE IS REALLY LIKE. IT"S A FEELING YOU GET THAT IS BEYOND THE WORDS. WHEN JACOB SAID "I LOVE YOU" YOU JUST DIDN'T HEAR WORDS, YOU FELT THE LOVE. IN THE OLD TESTAMENT WE READ THAT THE BIBLICAL JACOB WRESTLED WITH GOD AND WOULD NOT LET GO UNTIL HE WAS GIVEN GOD'S BLESSING. OUR JACOB WILL ALSO WRESTLE WITH GOD AND WITH HIS DETERMINATION, FRIENDLINESS, THE "JACOB SMILE", IMAGINATION, LOVE AND GOD'S PATIENCE, OUR JACOB WILL BE BLESSED AND GOD'S LOVE WILL BE INCREASED. THANK YOU GOD, JULE AND CURT FOR ALLOWING OUR LIVES TO BE TOUCHED AND ENRICHED WITH THIS PRECIOUS LIFE.
I LOVE YOU JACOB
GRANDPA CRAWFORD
MARCH 31, 2004
The light of Jacob Weatherhead came into this world Nov. 19, 1997 and left us in darkness March 29, 2004, but through our tears and suffocating grief we can still see his beautiful eyes, his contagious smile and remember his determination, "Just four more minutes". Through it all the blessed memories of his presence still helps us get through the pain of his absence. He cannot come back to us but we live with this hope; one day we will go to him.
Julie Weatherhead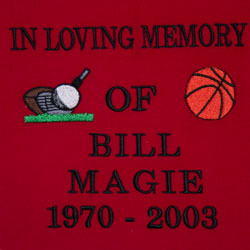 Quilt 5: Bill Magie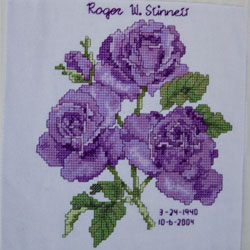 Quilt 5: Roger W. Stinnett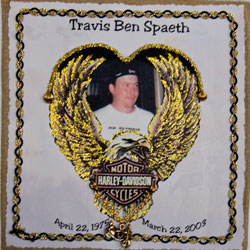 Quilt 5: Travis Ben Spaeth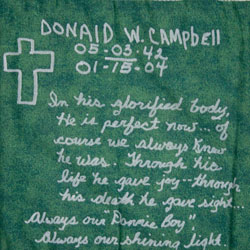 Quilt 5: Donald W. Campbell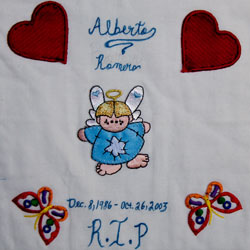 Quilt 5: Alberto Romero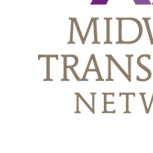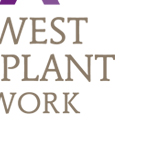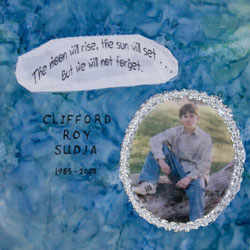 Quilt 5: Clifford Roy Sudja
Quilt 5: Stacy Cox
08/28/1979 – 06/05/1995
Stacy Ann Cox was born Aug. 28, 1979. She was always a caring little girl. She liked to please. She was beautiful inside and out. She went on general mission trips to help take care of the young children. She loved music. She wanted to be a child psychologist. Her nickname was "Smiley" and "Giggles." She was a typical teenager who had a gift for kindness. She had a sweet spirit about her. She was a daughter, a sister, a friend and a girlfriend. Stacy died on June 5, 1995, after a head injury in a car wreck. We lost the center of our world. She left us so much. We will always miss her and love her. The world was a better place because she was born.
Terry Cox (her Mother)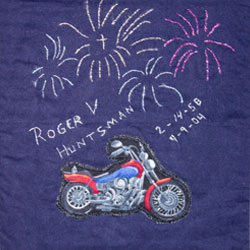 Quilt 5: Roger V. Huntsman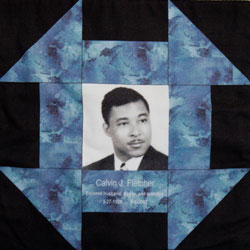 Quilt 5: Calvin J. Fletcher
Calvin J. Fletcher, deceased September 5, 2003, was a dedicated and beloved husband, father, and grandfather, revered by all his relatives, friends and neighbors and all who ever came in contact with him. He was a hard worker and dedicated Christian having accepted Christ as his savior in 1953. His life was then spent bringing glory to God through his testimony in leading others to Christ and his efforts to helping others. He loved his family and always had their welfare at the forefront of any decisions he would make. Calvin is greatly missed by all.
Submitted by Jacqueline A. Fletcher, wife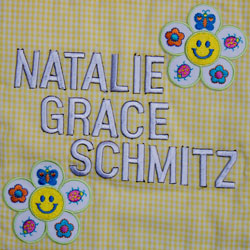 Quilt 5: Natalie Grace Schmitz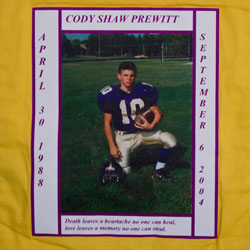 Quilt 5: Cody Shaw Prewitt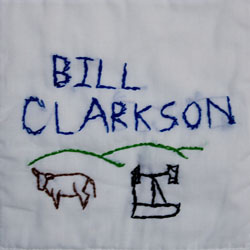 Quilt 5: Bill Clarkson
Bill Clarkson was raised on a farm and cattle farmed all his life. He was an oil pumper for about 20 years. He left behind three brothers, two sisters, two daughters, and me his wife Bonnie.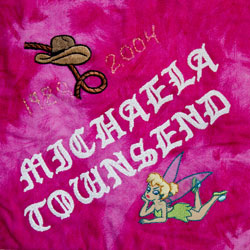 Quilt 5: Michaela Townsend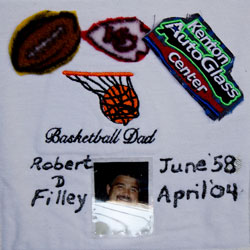 Quilt 5: Robert D. Filley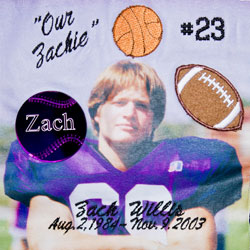 Quilt 5: Zach Willis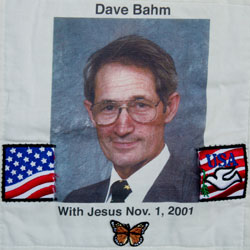 Quilt 5: Dave Bahm
Quilt 5: Edward Joe Scott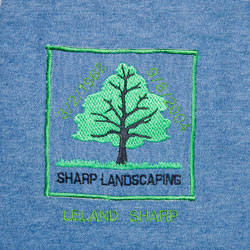 Quilt 5: Leland Sharp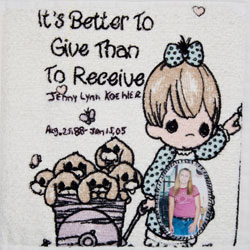 Quilt 5: Jenny Lynn Koehler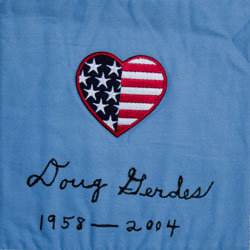 Quilt 5: Doug Gerdes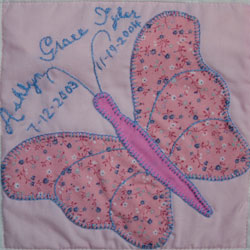 Quilt 5: Ashlyn Grace Tyler
07/12/2003 – 11/19/2004
Ashlyn Grace Tyler was my great granddaughter and she lived with me. I was adopting her. She was the sunshine in so many people's lives. She was a very special little girl. I know in my heart she is in heaven and well and happy and one day I will see her again. But her absence is very hard to deal with. I do carry a donor card in my billfold so maybe I will be able to help someone else live when it is my turn to leave this earth.
Gay McReynolds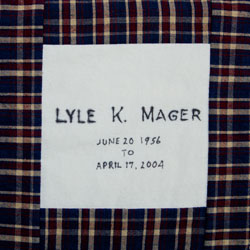 Quilt 5: Lyle K. Mager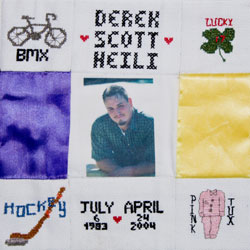 Quilt 5: Derek Scott Heili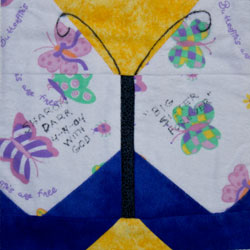 Quilt 5: Sharon Darr