At Midwest Transplant Network, we proudly work with donor families to create quilts in honor of loved ones who have given the gift of life through organ donation. These beautiful tributes to lifesaving donors travel with us to events throughout Kansas and western Missouri. They are a powerful symbol that helps raise awareness about organ, eye and tissue donation while honoring those individuals who have given gifts of life. View our donor memorial quilts below.
In order to be included in our Donor Memorial Quilts, quilt squares must meet specified guidelines. For more information, please contact us or view our FAQs.
Quilt 4
Scroll sideways to view whole quilt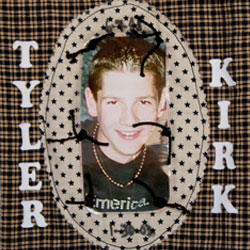 Quilt 4: Tyler Kirk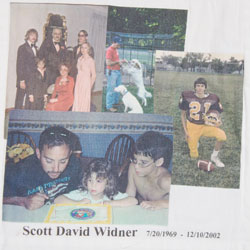 Quilt 4: Scott David Widner
07/20/1969 – 12/10/2002
Scott David Widner was born to John & Marjena Widner 12 years after his siblings. He was very special in everyone's eyes. On his way to wok he was taken, and left two children, his family and many friends. When I was asked if I wanted to donate, I had mixed feelings but later was glad. He was very giving. I went to the Memorial Service and pinned the quilt block on that my granddaughter Amy had prepared. We did Give & Grieve and were proud to be part of the quilt.
Marjena Widner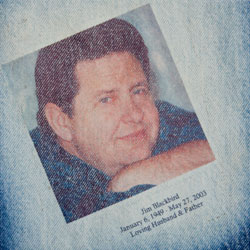 Quilt 4: Jim Blackbird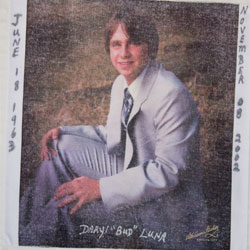 Quilt 4: Daryl Bud Luna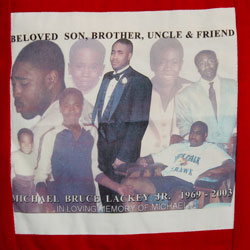 Quilt 4: Michael Bruce Lackey, Jr.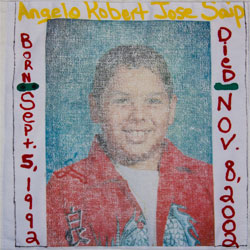 Quilt 4: Angelo Robert Jose Saip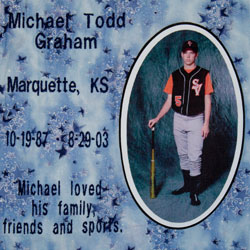 Quilt 4: Michael Todd Graham
10/19/1987 – 08/29/2003
Our son Michael Todd Graham was born October 19, 1987. He was raised in the small community of Marquette, Kansas. As he grew, he excelled in three sports, football, basketball and baseball, which was his most favorite. He was a great role model for his eleven-year-old brother, Matthew. He passed away on August 29, 2003, from injuries he received in a car accident. We were most fortunate that Michael had signed his driver's license to become an organ donor. We followed his wishes upon his death and are very thankful that he could help other people. He is missed by his parents, brother, grandparents, aunts, uncles, cousins and many friends.
Todd, Brenda & Matt Graham
Marquette, Kansas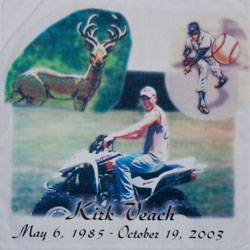 Quilt 4: Kirk Veach
05/06/1985 – 10/19/2003
Kirk died doing what he loved, riding an ATV. He enjoyed riding his dirt bike and ATV on the hills of Missouri, deer hunting and fishing. He was adventuresome and loved excitement, riding helped accommodate his wild side. Kirk had a contagious smile and was loved by everyone. He graduated from Lawson (MO) High School in 2003, where he played baseball, basketball and ran cross country. Our family is comforted knowing that in Kirk's death he gave the "gift of life", his organs, so five others could be healthier. We give thanks to God for the 18 years we had to love him. He will be missed.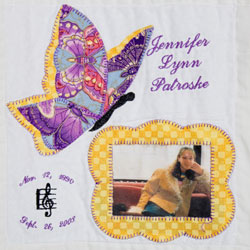 Quilt 4: Jennifer Lynn Patroske
Jennifer was a 12 year old lively little girl. She was our baby. She loved butterflies, music and cheerleading. She wanted so bad to be a cheerleader, and was given that chance and was able to cheer at one ball game. She played the piano so beautifully, the flute and the saxophone. She loved helping, so donating her organs was the only thing that we knew she would want us to do. Her liver was given to a 12 year old little girl, and we hope she will live on and be as happy as our Jennifer. Jenny will always be in our hearts.
Mom and Dad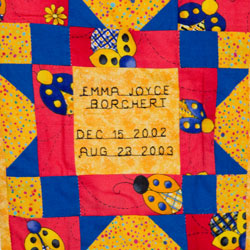 Quilt 4: Emma Joyce Borchert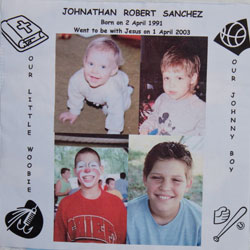 Quilt 4: Johnathan Robert Sanchez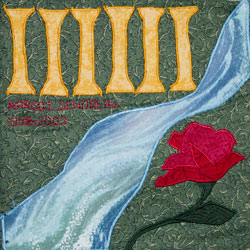 Quilt 4: Margot Gendreau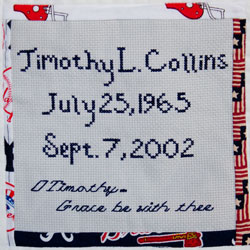 Quilt 4: Timothy L. Collins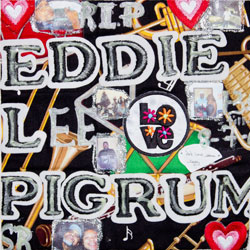 Quilt 4: Eddie L. Pigrum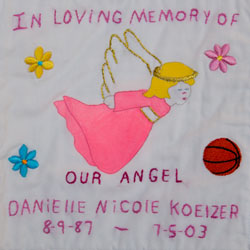 Quilt 4: Danielle Nicole Koelzer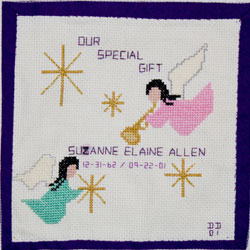 Quilt 4: Suzanne Elaine Allen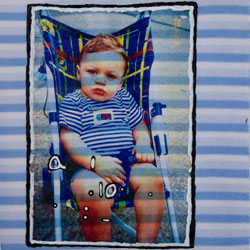 Quilt 4: Zarrin Doubet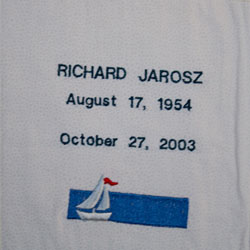 Quilt 4: Richard Zarosz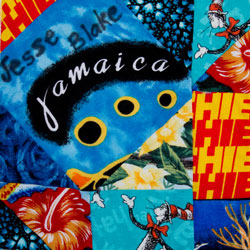 Quilt 4: Jesse Blake
Jesse was killed in an auto accident in August. He would have been 25 in October. He enjoyed life, his family, friends and adventure. He loved to cook, experiment with seasoning and food combinations. He was a carpenter, framing houses in Lawrence, KS. He enjoyed skiing, snow boarding, bowling, playing paintball and snorkeling.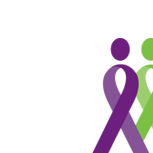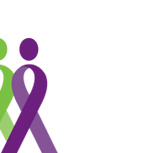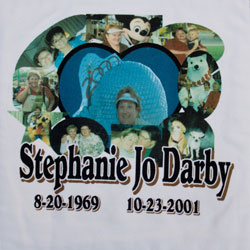 Quilt 4: Stephanie Jo Darby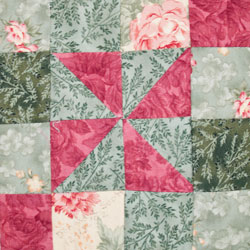 Quilt 4: Donald L. Scott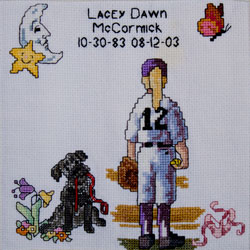 Quilt 4: Lacey Dawn McCormick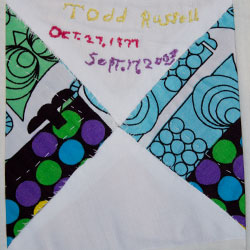 Quilt 4: Todd Russell
10/27/1977 – 09/17/2003
Todd V. Russell, age 25, of Parsons, KS, passed away from injuries he received when his bicycle was struck by a motor vehicle. Born October 27, 1977 in Pocatello, Idaho, he was disabled and involved in the Southeast Kansas Independent Living Program.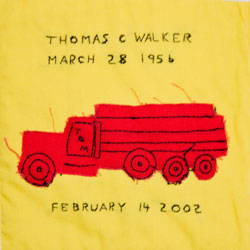 Quilt 4: Thomas C. Walker
03/28/1956 – 02/14/2002
As a child Tom's favorite toy was a Tonka semi-truck. At age 5 at a festival there was an obstacle track for older kids to drive big tractors around. A man offered to walk by Tom for a short drive. Tom drove the entire course! After 2 years of college he attended truck driving school, then drove all over the United States 20 years. He was driving a big dump truck, stopped, dialed 911; died of a brain aneurysm, age 45. His favorite truck was red. His eyes have helped someone else to drive.
Lora B. Kaisler, Tom's mother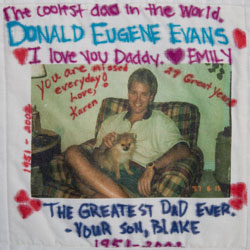 Quilt 4: Donald Eugene Evans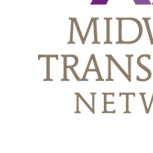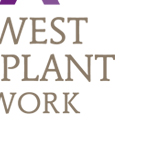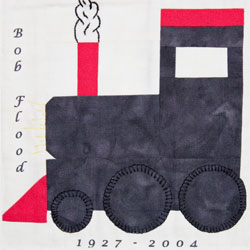 Quilt 4: Bob Flood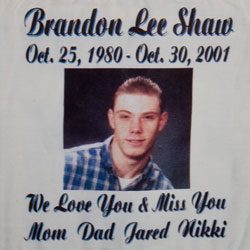 Quilt 4: Brandon Lee Shaw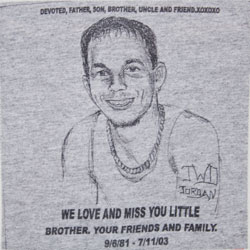 Quilt 4: Jessie Dunlap
Jessie, Your memory lives on in our hearts. See you on the flip side-xoxoxo
From: Debra Dunlap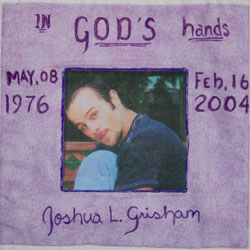 Quilt 4: Joshua L. Grisham
05/08/1976 – 02/16/2004
Quilt Patch: Purple with picture of Josh in the center Above with picture says "In God's Hands" Birth date and Death date on each side of picture Joshua's name below. The loss of Josh put a hole in our hearts; we know that hole will heal, but the scar will always remain. Through our son's death, and him being an organ donor, he saved the lives of 3 individuals within 24 hours. Blessings do come out of tragedies. We must open our eyes and hearts in order to see them. Josh was always helping people if he had the way or means. He was kind, loving, ornery and full of mischief. He always lived life to the fullest. Son, brother, husband and Daddy. We will keep his memory alive forever.
The Grisham Family Tim, Cat, Ryan & Rachel Julie, Zac, Shelby & Austin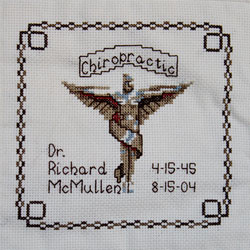 Quilt 4: Dr. Richard McMullen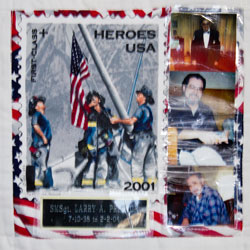 Quilt 4: SmSgt. Larry A. Preston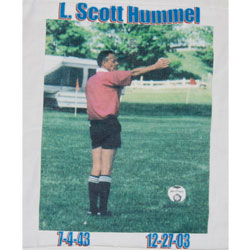 Quilt 4: L. Scott Hummel
07/04/1948 – 12/27/2003
Scott was very active in soccer in the Emporia, Kansas area, having been one of the people starting the two soccer tournaments in Emporia, one in the Spring, that is named after him, and one in the Fall. He was president of TRYSA (a soccer organization) for many years and also tournament director for over 20 years, loving to see the children playing the game. What a thrill for him!!!! He was also a referee, doing local league games and also High School games. He would travel to many various tournaments with the feeling that if we supported other tournnaments they inturn would support ours. How he loved the game! It was a game that he felt ALL could play and enjoy.
Joan M. Hummel, Wife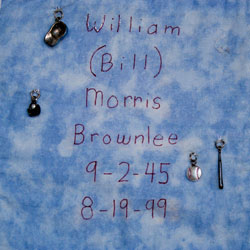 Quilt 4: William (Bill) Morris Brownlee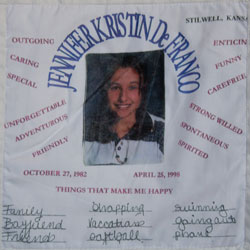 Quilt 4: Jennifer Kristin DeFranco
We lost Jennifer in a car accident when she was only 15. Jen was beautiful and vibrant. So full of life. She touched many lives in her short time here. She had a smile that just took your breath away. We have her picture on the patch. We also list all her traits. At the bottom, entitled "Things That Make Me Happy" is in her own handwriting. She was working on this project at school. Jen wanted to be a Doctor and in the end, she did save lives. We miss her so much and will love her forever.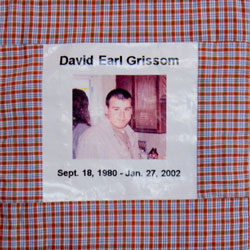 Quilt 4: David Earl Grissom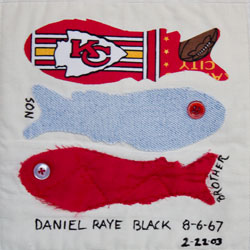 Quilt 4: Daniel Raye Black
Dan was born Aug. 6, 1967, graduated from Northeast High School in Arma, Ks., and received a degree in Plastic Engineering from Pittsburg State University. He was employed by Pitt Plastics and was head of the quality control department. He is survived by his mother, father, and sister. Dan was never married and had no children. He was an avid fisherman, and equally enjoyed preparing his fried fish for family and friends. Dan was a social person, and at an early age he was given the nickname, "Doobs", because he had a way of making people laugh. The name stuck with him through his 35 years. Dan played football, and his favorite team was the Kansas City Chiefs. He also hunted with his father and owned two dogs. He loved the summer because he could fish; also it was his birthday. Dan won a baby contest when he was three. If Dan could be remembered for one thing, it would be that he never had an unkind word for anyone. Dan was and is loved very much.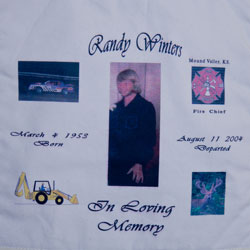 Quilt 4: Randy Winters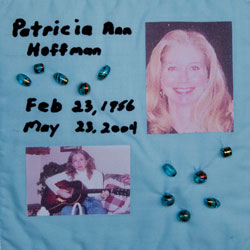 Quilt 4: Patricia Ann Hoffman
02/23/1956 – 05/23/2004
My sister was a very loving person. She has one daughter, Angie, and a brother and sister. Her parents, with whom she was very close, are still in St. Joseph, Mo. She enjoyed horseback riding and playing with her dog Buddy. We enjoyed, years ago, going to the Lake of the Ozarks, where we had a cabin to boat and swim. I remember Pat could dive into the lake, I never did learn how to dive. She was nine years younger than me. My husband and I enjoyed having her along on our lake trips. I know Patty is proud to be a donor, as we are. Her family would like someday to know the recipients, as they represent her living on and giving someone else the opportunity to live a better life.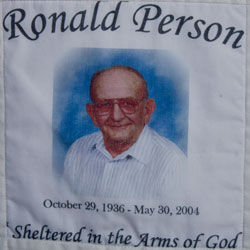 Quilt 4: Ronald Person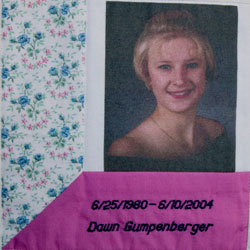 Quilt 4: Dawn Gumpenberger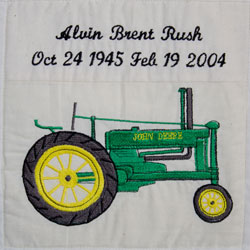 Quilt 4: Alvin Brent Rush
10/24/1945 – 02/19/2004
We chose to make the John Deere quilt block because of Brent's love for John Deere Tractors and miniatures, which he collected. He spent many hours on his John Deere mower, mowing for several people in town. Brent was a very giving person, so it only seemed appropriate for him to be a donor. He enjoyed helping others. Alvin Brent Rush – February 19, 2004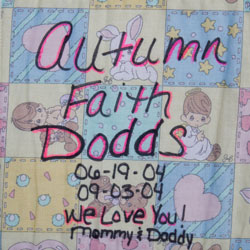 Quilt 4: Autumn Faith Dodds
06/19/2004 – 09/03/2004
Autumn Faith Dodds was our first baby daughter. On August 24, 2004 she was at daycare and choked on her formula while she was sleeping. She was at our local hospital and was then flown to Children's Mercy Hospital in Kansas City. Autumn Faith was in the hospital for 11 days before going home to be with her Heavenly Father. Autumn was a GREAT baby. She loved taking baths and showers. Autumn Faith Dodds was born on Jun 19th, 2004 and passed away on September 3, 2004; she was 2 months and 14days.
Love, Mommy & Daddy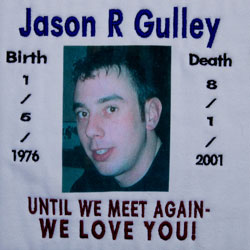 Quilt 4: Jason R. Gulley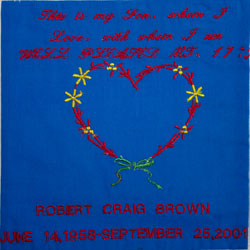 Quilt 2: Robert Craig Brown