At Midwest Transplant Network, we proudly work with donor families to create quilts in honor of loved ones who have given the gift of life through organ donation. These beautiful tributes to lifesaving donors travel with us to events throughout Kansas and western Missouri. They are a powerful symbol that helps raise awareness about organ, eye and tissue donation while honoring those individuals who have given gifts of life. View our donor memorial quilts below.
In order to be included in our Donor Memorial Quilts, quilt squares must meet specified guidelines. For more information, please contact us or view our FAQs.
Quilt 2
Scroll sideways to view whole quilt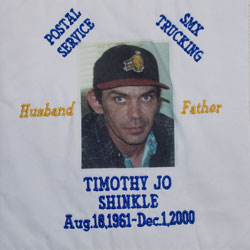 Quilt 2: Timothy Jo Shinkle
08/18/1961 – 12/01/2000
Beloved son, brother, husband, father, uncle, friend. Parents Larry Joe and May. Sister Tina Napier. Brother Terry. Married Kriste Gore 08-01-1981. Daughters Krystal born 08-19-1985, Samantha 01-09-1987. Enjoyed camping, fishing at Fall River, KS Friends: Andy Vanderhoof, Robert Lounds, Tim Wilson, Uncle Max Shinkle and many more. Worked for Post Office 17 years. Fulfilled a dream of being a truck driver for SMX Trucking. He loved his family, our farm, music, gardening, animals. Channel 3 did a story on his life on the farm. Tim loved and lived life to the fullest. We hold his love in our hearts forever.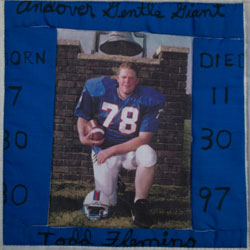 Quilt 2: Todd Fleming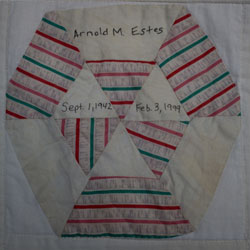 Quilt 2: Arnold M. Estes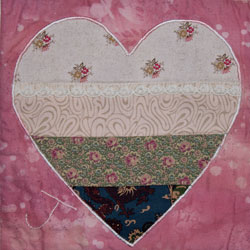 Quilt 2: No Name Submitted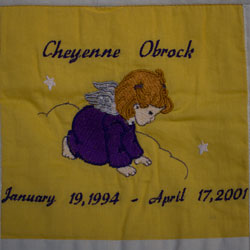 Quilt 2: Cheyenne O'Brock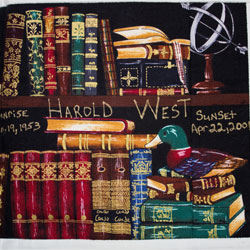 Quilt 2: Harold West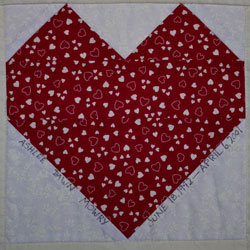 Quilt 2: Ashlee Dawn Mowry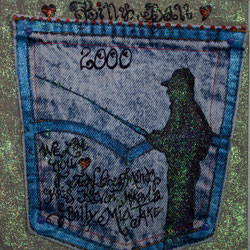 Quilt 2: Billy Ball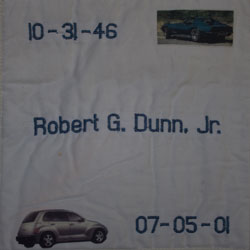 Quilt 2: Robert G. Dunn, Jr.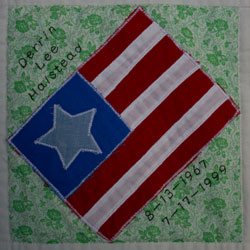 Quilt 2: Derrin Lee Halstead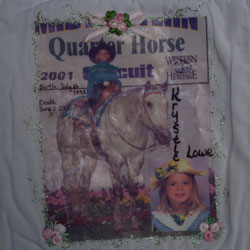 Quilt 2: Krystle Lowe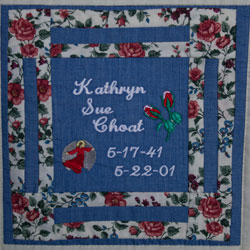 Quilt 2: Kathryn Sue Choat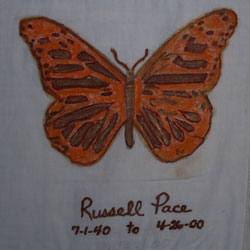 Quilt 2: Russell Pace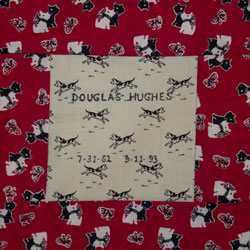 Quilt 2: Douglas Hughes
07/31/1982 – 03/11/1993
It was 13 years ago when Doug had the wreck. Doesn't seem that long, seems only yesterday. I miss his smile and his jokes. He could always make me laugh when I was sad or worried about something. He was with me when his Dad passed away. Couldn't have made it without him. Now his brother has cancer. Wished he was here to complete me.
Mrs. Eva (Hughes) Howell Doug's mother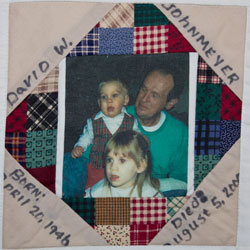 Quilt 2: David W. Johnmeyer
04/20/1946 – 08/05/2000
David Johnmeyer was a great husband, good dad and wonderful grandfather. He was a great provider and always loved challenges. I remember him rushing home from work to put his feet in the pool with our granddaughter, Ashley. It was such a cherished time for him. Christopher came along, his grandson, and he couldn't have been prouder. Unfortunately God took him too soon and he never enjoyed seeing his grandchildren play basketball, baseball and football. There isn't an hour or a day that goes by that he isn't remembered fondly.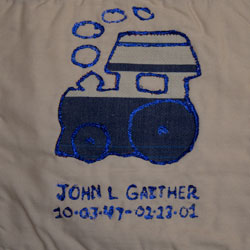 Quilt 2: John L. Gaither
10/03/1947 – 02/23/2001
The quilt block prepared in memory of John. L. Gaither 10-03-47 to 02-23-01 was made from a favorite shirt of his. John was a Christian man, gentle, kind, loving, thoughtful, with a unique sense of humor. John made a personal decision to be an organ donor many years ago, signing his driver's license with each renewal, and expressing his wishes to myself. At the time of his unexpected death I knew I was in keeping with his wishes to give what was possible to help others. John's short life was full of adventure, travels, reading, movie and television watching. He loved trains, made and ran models, collected railroad memorabilia with a special interest in the history of the Missouri Pacific Railroad Line, for which his grandfather was a steam engineer. Together they traveled from Nevada, Missouri to Kansas City and St. Louis, Missouri. John found the computer and internet a new world to explore. Other interests included airplanes, air shows, motorcycles, which he rode and raced during his youth, jeeps and off road adventures, Star Wars (having collected every book written in the series at the time of his death). His favorite character was Boba Fett, whose six foot cardboard image still keeps me company. John was special and after 18 years of marriage he was still wonderful and exciting as he was on our first date. I love the memories we made together, they help me get thru difficult days. He was well liked by family, friends, and his co-workers at Vanguard Airlines. He is greatly missed by all those who knew him. He always had a smile, a joke, a story to tell, and time to listen.
His loving wife and companion Deb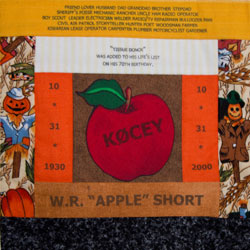 Quilt 2: W.R. Apple Short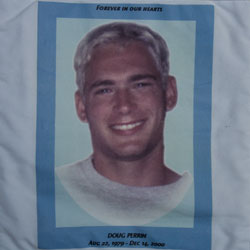 Quilt 2: Doug Perrin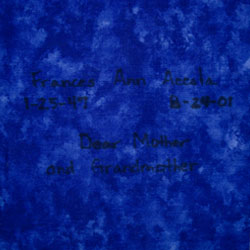 Quilt 2: Frances Ann Accola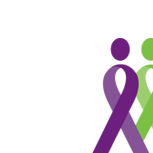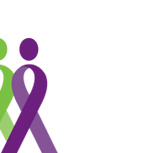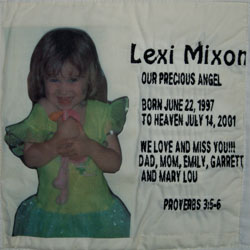 Quilt 2: Lexi Mixon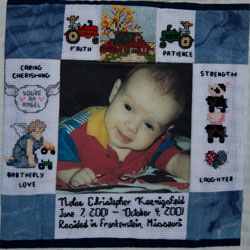 Quilt 2: Nolan Christopher Koenigsfeld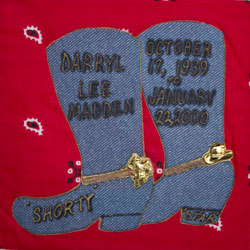 Quilt 2: Darryl Lee Madden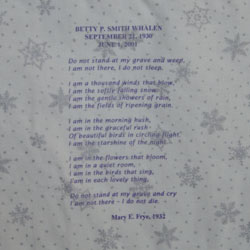 Quilt 2: Betty P. Smith Whalen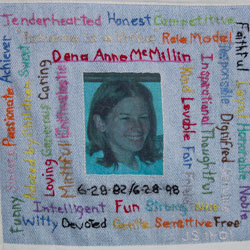 Quilt 2: Dena Anne McMillin
06/28/1982 – 06/28/1998
Dena died June 28, 1998 on her 16th birthday in a tragic car accident. For Dena's quilt patch I decided to have her picture on a patch of denim from a pair of her favorite jeans. I had asked my family and close friends to tell me the word that came to mind when they thought of Dena. The words I received are all so positive and accurately reflect Dena's true character. I spent several days embroidering each word on the patch. This labor of love gave me joy and immense pride in my wonderful daughter.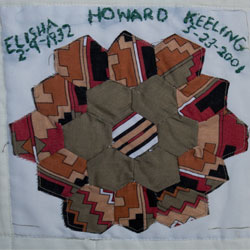 Quilt 2: Elisha Howard Keeling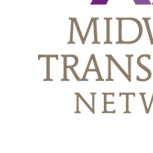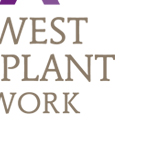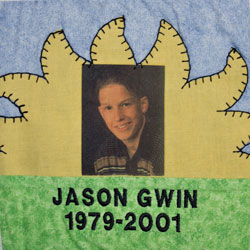 Quilt 2: Jason Gwin
06/01/1979 – 04/01/2001
Jason Gwin was a passenger in an automobile accident. Jason gave of himself in life and in death. He was more than a cousin He was a friend, a hero He was the leader of us all Full of life, big in heart To all of us he was so smart He gave us advice throughout the years With him by our side, we had no fears He was the star in many lives, and was loved so sincerely For he was so found, we'll all miss him dearly.
Love, Brittany & Megan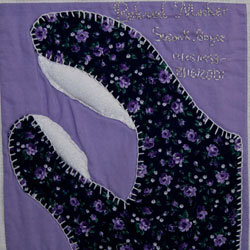 Quilt 2: Susan K. Boyce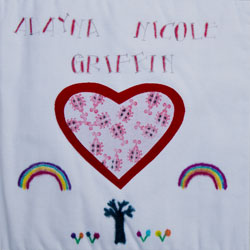 Quilt 2: Alayna Nicole Griffin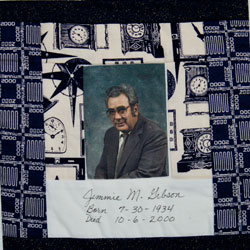 Quilt 2: Jimmie M. Gibson
07/30/1934 – 10/06/2000
Jimmie was a watch repairman from June 1957 until he died October 6, 2000. He worked for the same gentleman, Bruce Collier and Ray P. Gardner, co-owners of Gardner-Collier Jewelry Store. The young lady, Jeanie Brawner, who made the quilt block for me travels around a lot with her boys, who wrestle, and she found this material, which she thought was perfect and our family thinks she did a good job. Jimmie's picture is in the center with clocks around him. He was a watch repairman and knew most people in town. In fact, he could put the watch to the person. He loved his job. His dad was a watch repairman too. Jim and his son, Don, worked on clocks, which gave them a special bond.
From: Ann, wife Don, Son Joy, daughter Grandchildren, Tawnya, Brittany, Melissa and Tony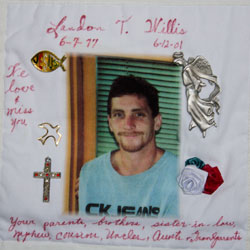 Quilt 2: Landon T. Willis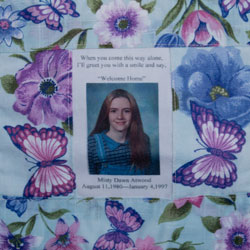 Quilt 2: Misty Dawn Atwood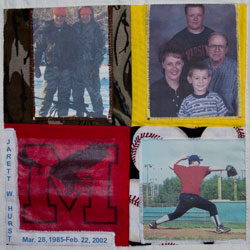 Quilt 2: Jarett W. Hurst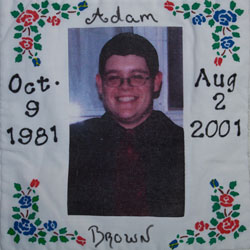 Quilt 2: Adam Brown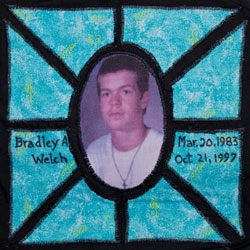 Quilt 2: Bradley A. Welch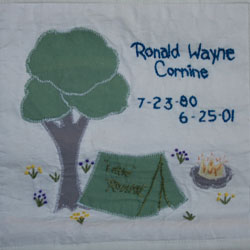 Quilt 2: Ronald Wayne Cornine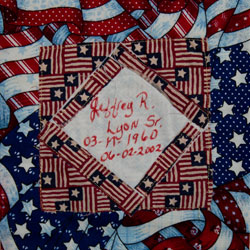 Quilt 2: Jeffrey R. Lyon, Sr.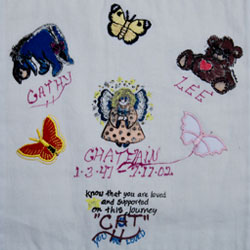 Quilt 2: Cathy Lee Chatelain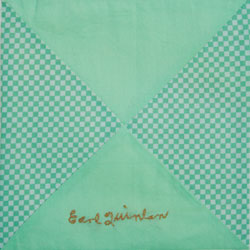 Quilt 2: Earl Quinlan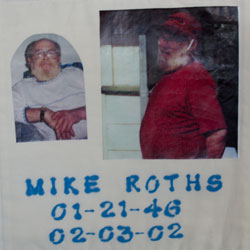 Quilt 2: Mike Roths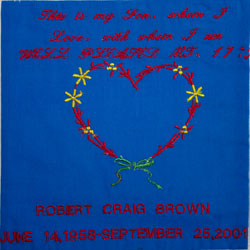 Quilt 2: Robert Craig Brown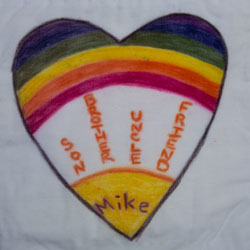 Quilt 2: Mike Grundman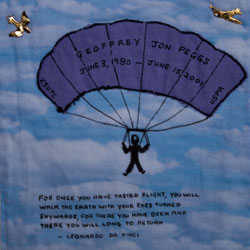 Quilt 2: Geoffrey Jon Peggs
06/03/1980 – 06/18/2001
Geoffrey Jon Peggs died on June 15, 2001 at the age of 21 as a result of a skydiving accident. He was a student at Kansas State University. His intended career path included journalism, and communications, but considered aviation as his most probable vocation. This airplane, thus, represents the most professional future he had chosen. The lone figure hanging from the purple parachute is Geoff. His avocation and passion in life was skydiving, which he pursued with all his might. "KSUPC" stands for the fact that he was President and Webmaster of the K-State Parachute Club. The "USPA" signifies his membership in the United States Parachute Association. Finally, Geoff possessed a profound respect and love for nature; he was a child of nature and of God; hence the dove in the left hand corner.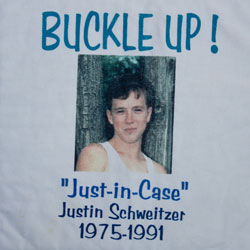 Quilt 2: Justin Schweitzer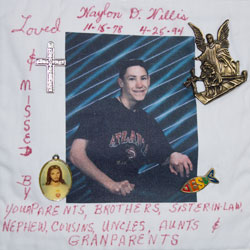 Quilt 2: Waylon D. Willis