At Midwest Transplant Network, we proudly work with donor families to create quilts in honor of loved ones who have given the gift of life through organ donation. These beautiful tributes to lifesaving donors travel with us to events throughout Kansas and western Missouri. They are a powerful symbol that helps raise awareness about organ, eye and tissue donation while honoring those individuals who have given gifts of life. View our donor memorial quilts below.
In order to be included in our Donor Memorial Quilts, quilt squares must meet specified guidelines. For more information, please contact us or view our FAQs.
Quilt 10
Scroll sideways to view whole quilt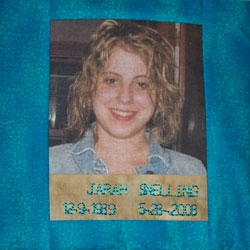 Quilt 10: Jarah Snelling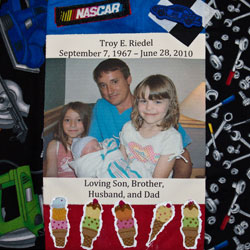 Quilt 10: Troy E. Riedel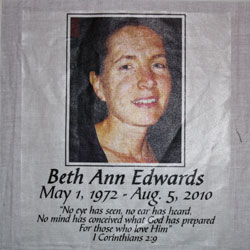 Quilt 10: Beth Ann Edwards
Beth loved the outdoors and was an avid runner. She graduated from the Kansas City, Kansas Police Academy. She was also a courier for Federal Express. Beth was diagnosed with synovial sarcoma in 2005. She had two rounds of chemotherapy followed by radiation. Her favorite scripture verse was I Corinthians 2:9. "No eye has seen, no ear has heard, no mind has conceived what God has prepared for those who love Him." Her favorite song was "Hope Now" by Addison Road. We all love and miss her very much. The Best Is Yet To Come.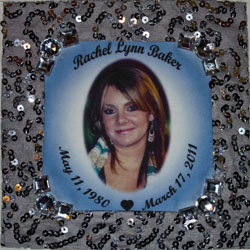 Quilt 10: Rachel Lynn Baker
Rachel Lynn Baker was the oldest of our three children. As a toddler, her hair was so curly it looked like blonde corkscrew ringlets stuck all over her head! Rachel had beautiful sparkling blue eyes and a smile that would melt your heart. She was a nurturer; caring for family and friends above herself. With a generous heart, Rachel cooked/baked, carefully handpicked greeting cards and gave wonderful gifts. Rachel worked at Old Chicago in Wichita, Kansas for 10 years where she had a loyal following of customers that would wait in line for a table in her section. She absolutely loved each and every one of these people. Rachel's life ended suddenly in a car accident after an outing with friends. Her tissue and cornea donation brings comfort; knowing she continues to live and enhance the lives of others. We miss Rachel so much; her hugs, the smell of her hair and her quick "Love you, bye" at the end of every phone conversation.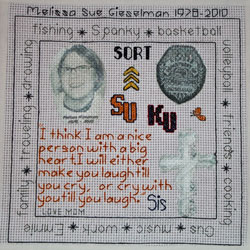 Quilt 10: Melissa Sue Gieselman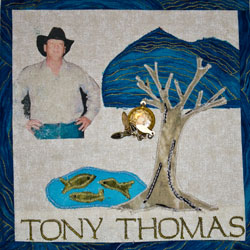 Quilt 10: Tony Thomas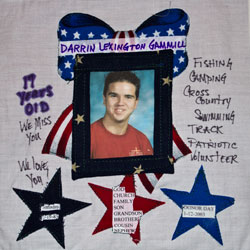 Quilt 10: Darrin Lexington Gammill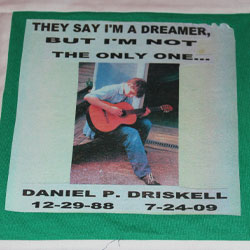 Quilt 10: Daniel P. Driskell
Arrived at 10 AM Dec 29, 1988 to the parents Rick and Karmie. He was raised in a very loving home. As he grew he was a whimsical, mischievous, happy little guy. Then he matured in to a very smart, free spirited, free thinking young man. He cared deeply for his family and friends. He acquired his father's gift for writing poetry and his love of reading from his mother. July 24, 2009 he was taken from us. As he rode to work he was killed in a head on collision. Now in death to several other families and ours he's known as a hero.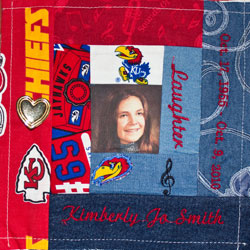 Quilt 10: Kimberly Jo Smith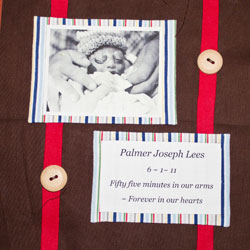 Quilt 10: Palmer Joseph Lees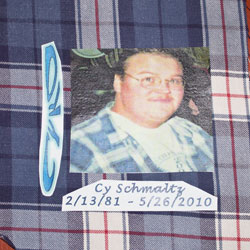 Quilt 10: Cy Schmaltz
Cy Schmaltz was diagnosed with Duchene Muscular Dystrophy, but had many accomplishments in his short life. He sang in the KCK All City Honor Choir in grade school, he came in 2nd in the Blockbuster Video Game Championships and was the Kansas Muscular Dystrophy Ambassador in 1992. He was a cub scout, boy scout, played wheelchair basketball, participated in Special Olympics and the Mid America Games. Cy graduated from high school and a vocational class in Multimedia Production. He loved cats. Cy wrote and registered a screenplay titled, "The Robot Chronicles." Cy recorded rap music under the name "Cyko". Cy was a loving son, brother, nephew, cousin and uncle.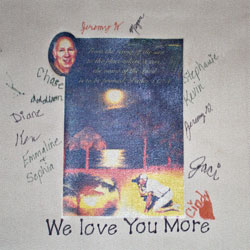 Quilt 10: Steven Warner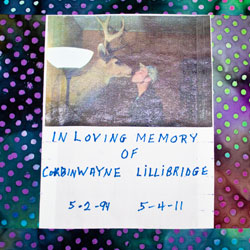 Quilt 10: Corbin Wayne Lillibridge
05/02/1994-05/04/2011
This quilt square represents Corbin's love of life and people and his quirky personality. He always wanted others to have a smile on their face and laughter in their hearts and would stop at very little to achieve that goal. Corbin's life was cut short just after his 17th birthday and the love from his family and friends continues today. His choice to be a donor shows his loving and caring compassion for others. While Corbin is no longer with us, his life continues on in others.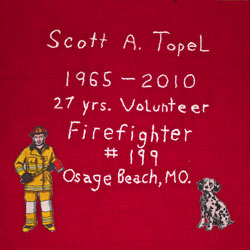 Quilt 10: Scott A. Topel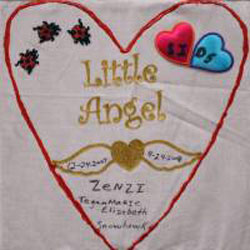 Quilt 10: Zenzi TeganMarie Elizabeth Snowhawk
Zenzi was only 4 months old when SIDS took her from us. Because of her young age she could only donate two heart valves. Zenzi was my first granddaughter and will be missed forever. Her nursery was done in ladybugs.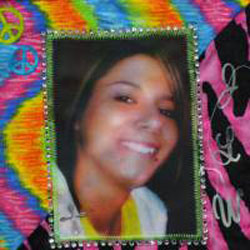 Quilt 10: Jennifer Lynn Wright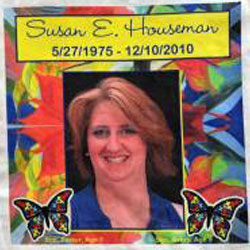 Quilt 10: Susan E. Houseman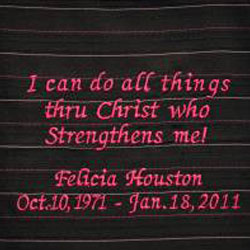 Quilt 10: Felicia Houston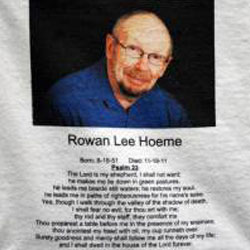 Quilt 10: Rowan Lee Hoeme
1951-2011
On November 29, 2007 while standing in line at a local grocery store, my husband went into cardiac arrest. An off-duty nurse standing behind him check him and began CPR before the paramedics arrived. I literally watched my husband die and be brought back to life. Talk about your Guardian Angels. We had 4 more years together. After that incident he would quote the 23rd Psalm. He was not afraid. He loved life. He made the decision to be a donor 12 years ago.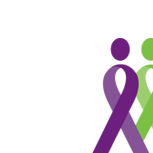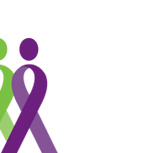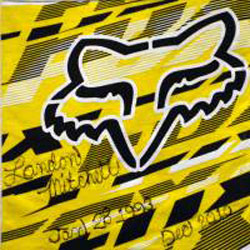 Quilt 10: Landon Mitchell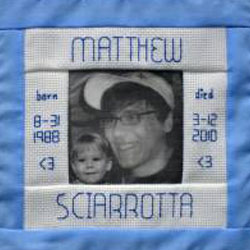 Quilt 10: Matthew Sciarrotta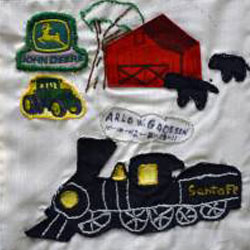 Quilt 10: Arlo W. Goossen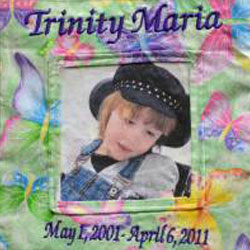 Quilt 10: Trinity Maria Pacheco
Our "Borrowed Angel" had a smile for everyone, and everyone immediately fell in love with her. Born 2 pounds 5 ounces, there were so many things they said she would never do. But she understood everything, listened, and watched. She surprised everyone with a vocabulary of a dozen plus words and phrases. The first time she said, "I love you" just rocked my world. How she loved to shop and go places. "I want to go" had you packing her up and going somewhere. She loved the trampoline, riding in a cart on the back of a bicycle and going out to eat. Music calmed her as an infant and continues to be important to her. She never grew tired of being read to. There is comfort in knowing that her wheelchair, special car seat, bath bed and so many of the other things she used in life have been donated to others. But we hope that the donation of her organs brings life to a child in need of an organ. She lives on through others. She was such a joy to all of our family and will be missed forever. Till we meet again Trinity, with all our love.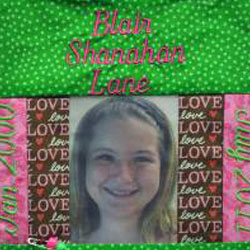 Quilt 10: Blair Shanahan Lane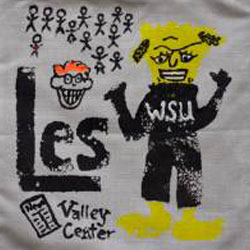 Quilt 10: Les Anderson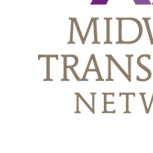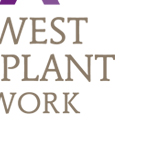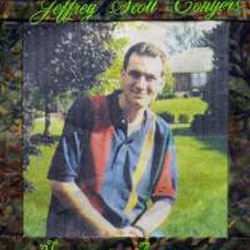 Quilt 10: Jeffrey Scott Conyers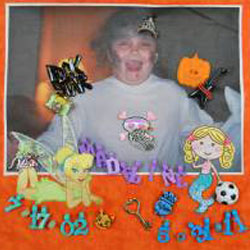 Quilt 10: Madeline Iona Herman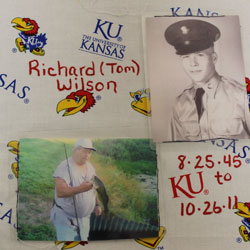 Quilt 10: Richard (Tom) Wilson
Tom was in the Army. He worked for Dolly Madison in Emporia, KS, until he retired and went to work transporting prisoners with his daughter all over the United States until 2008 when his health started going down hill. He loved to hunt and fish. He loved playing bingo and going to casinos with his family. When he got a pacemaker he had to give up hunting. He loved spending time with his granddaughters Zoe and Chloe.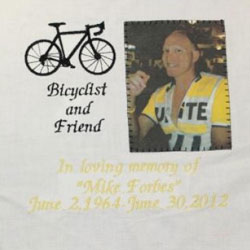 Quilt 10: Michael Duane Forbes
6/2/64-6/30/12
During a cancer society benefit ride, Mike was struck by a motorist and killed at the scene. He was enjoying what he loved best – bicycling. Mike had rode for MS for years and knew the highway he was riding extremely well. Mike was always helping someone else. He was a friendly person who always had a big smile. His riding idol was Lance Armstrong and he enjoyed watching the Tour de France each year. Mike loved animals, camping and the outdoors. He would often find a wild injured animal and take it to a nature shelter so staff could help in its recovery. Mike leaves his family, friends and cycling community. His memorial was held at the church where he was married. His friends shared so many nice stories about their friendship over the years. Two new road signs have been posted on the highway where Mike was killed: "Share the Road" and "Adopt a Highway." Mike lives on in the life of his cornea recipient. Life is precious. He will be missed by so many.
Love you – Mom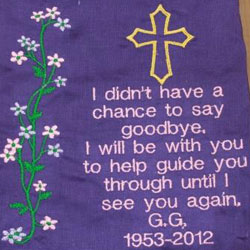 Quilt 10: Jaime Sue Knaus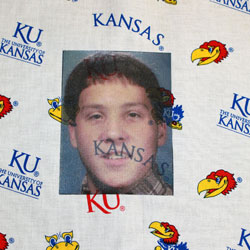 Quilt 10: Keith Cantu
Keith A. Cantu was born May 29, 1981 in Gardena, California. At the age of 4 he was diagnosed with Cystic Fibrosis. Keith enjoyed reading, skating, scary movies and Halloween. Las but not least, the Kansas Jayhawks! In 1999, Keith was inducted to the National Honor Society in Eureka, Kansas. The Fall of 1999 Keith moved to Lawrence. While at the University he was an athletic trainer for various teams. Keith fulfilled his dream in May 2005 and walked down "The Hill" earning a bachelor's degree in exercise science. Keith was a very quiet person, but had a beautiful smile. Keith was my only child. I truly and dearly miss him. Keith went to be with Jesus on March 15, 2012.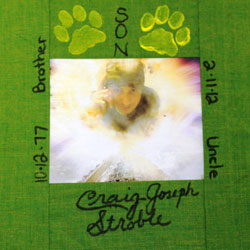 Quilt 10: Craig Joseph Stroble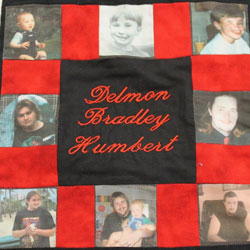 Quilt 10: Delmon Bradley Humbert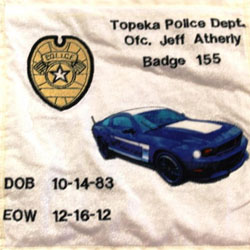 Quilt 10: Topeka Police Officer Jeff Atherly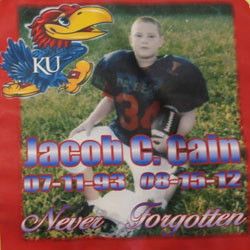 Quilt 10: Jacob C. Cain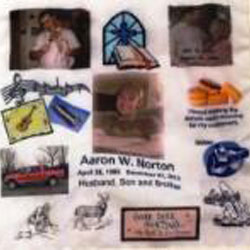 Quilt 10: Aaron W. Norton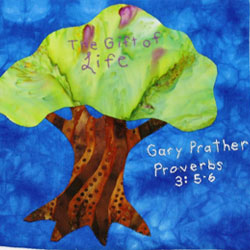 Quilt 10: Gary Prather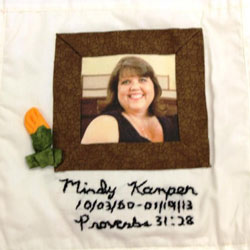 Quilt 10: Mindy Kampen
10/3/60- 1/19/13
Mindy was married to Dan Kampen for 32 1/2 years. She was a mother to Rob (3/19/86) and Valerie (3/24/89). Mindy was a very giving, caring and nurturing person. Her faith was strong and she took great pleasure in serving others and God.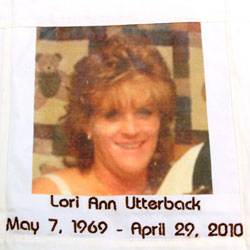 Quilt 10: Lori Ann Utterback
Lori passed away suddenly at work without any warning of a brain aneurysm. She was a wife and mother of one daughter, Rachelle (age 13). Lori loved to go hunting for morel mushrooms in the spring. She also enjoyed watching football, playing golf, fishing, country music and dancing. At the time of her death, Lori was working at a manufacturing plant, a CNA at a nursing home on the weekends and helping out on the turkey farm. She is sadly missed by her husband, daughter, father, mother, brothers, sister and all of the rest of her family and friends.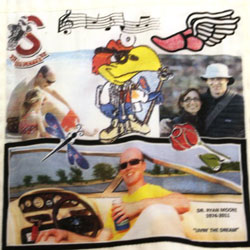 Quilt 10: Dr. Ryan Moore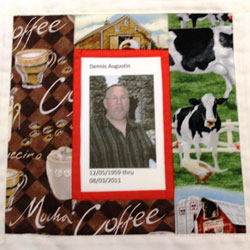 Quilt 10: Dennis Augustin
Dennis was my husband; he had four children, three daughters and a son from a previous marriage. He was the oldest in his family with a sister and a brother. He was raised on a farm and worked on farms in his early years. He had worked construction as a laborer, and recently became a truck driver. He enjoyed fishing, camping, vacationing and spending time with family and friends. He was a happy go lucky person, able to talk to anyone. He would help out anyone that asked or needed it. He enjoyed his coffee, he would also stop on his way to work and get a large cup. In the winter if there was snow on the sidewalk, he would offer to shovel and they would give him a cup. We had talked about donating at different times. On August 3rd he was hauling hay in Newton, KS when he had unstrapped the round bales and they rolled off the flat bed and hit him in the chest. He was taken to Newton Hospital, and I received a call at work that he had passed away. I received a call about him becoming a donor, I had some questions that I needed answering, and then gave the go ahead. At the time it is very hard to have to make all those decisions, but knowing that he is living on in others makes every day easier. He is missed daily, we have the memories and I pray that everyone that he has helped is enjoying life.
His wife, Donna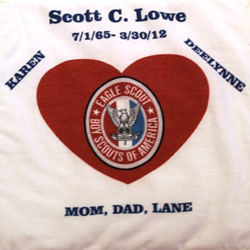 Quilt 10: Scott C. Lowe
My Dad was a good, loving, protective and respectful father. When you needed him to be somewhere on time, he was there an hour before he was needed to be there. My Dad always made sure my Mother and I were provided for. My Dad was a family man and he was proud of it. He always made the best steaks and hamburgers. Every time he made them he would smoke up the house, my Mom and I would just laugh at him and open the back door and the windows and air out the house!
Karen E. Lowe, 17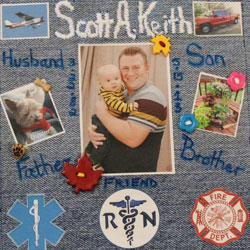 Quilt 10: Scott A. Keith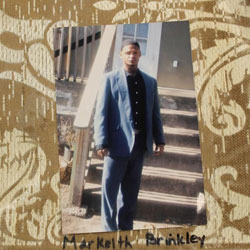 Quilt 10: Markeith Brinkley