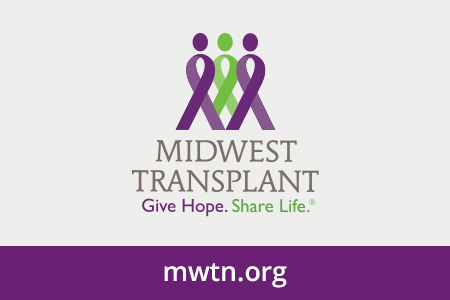 Laboratory Sets Milestone Amid Pandemic
(Last Updated On: December 9, 2021)
In our recent blog post, we talked to Midwest Transplant Network's Laboratory Director, Scott McDonald, about our histocompatibility lab that performs tests in support of organ, eye and tissue donation. After sharing the background of how our laboratory functions, we wanted to take a closer look at how our lab operates, as well as the volume of work our lab staff members produce and how their work has been impacted by the COVID-19 pandemic.
Because of the spontaneous nature of organ donation, our lab functions 24 hours a day, 365 days per year, performing the histocompatibility testing necessary to ensure the best match between donated organs and transplant recipients.
Throughout the early days of the pandemic through the present, our Laboratory Services staff members have been hard at work — even performing unusually high testing numbers for several months so far in 2020. They recently set a milestone by performing a record 3,000 tests in the months of June, July and August, while meeting established turnaround times 94% of the time.
The pandemic initially significantly impacted laboratory testing, as many transplant centers put certain transplants on hold. Once hospitals and health systems received COVID-19 screening tests, they could resume transplantation services that were previously on hold. Since then, requests for MTN's laboratory services have only risen.
The team has adjusted to these increased demands by implementing 24/7 staffing shifts, working with an administrator on call for oversight, and prioritizing each request for patient and donor testing. They continually seek opportunities to improve services as their testing numbers continue to grow.
Maintaining a commitment to their lifesaving work and consistently striving to achieve the highest standards, MTN Laboratory Services staff members exceed expectations while also facing an extreme public health crisis. Together with their clinical coworkers in MTN's Organ Procurement and Tissue Procurement departments and their non-clinical colleagues, our Laboratory Services team saves lives by honoring the gift of organ and tissue donation with dignity and compassion.
https://mwtn.org/wp-content/uploads/2021/04/Blog-Post-Featured-450x300-MTN-Generic-Vertical.jpg
300
450
Midwest Transplant Network
https://mwtn.org/wp-content/uploads/2023/02/MTN-50-Year-Horizontal-Full-Color-1030x302-1.png
Midwest Transplant Network
2020-10-21 21:13:03
2021-12-09 12:39:13
Laboratory Sets Milestone Amid Pandemic