At Midwest Transplant Network, we proudly work with donor families to create quilts in honor of loved ones who have given the gift of life through organ donation. These beautiful tributes to lifesaving donors travel with us to events throughout Kansas and western Missouri. They are a powerful symbol that helps raise awareness about organ, eye and tissue donation while honoring those individuals who have given gifts of life. View our donor memorial quilts below.
In order to be included in our Donor Memorial Quilts, quilt squares must meet specified guidelines. For more information, please contact us or view our FAQs.
Quilt 8
Scroll sideways to view whole quilt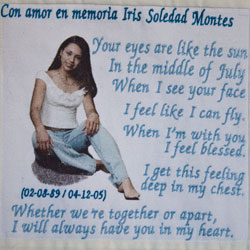 Quilt 8: Iris Soledad Montes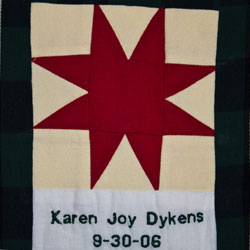 Quilt 8: Karen Joy Dykens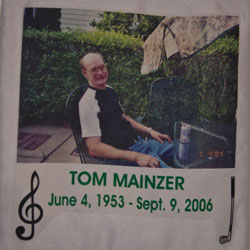 Quilt 8: Tom Mainzer
06/04/1953 – 09/09/2006
Tom was a very likeable person, slow to anger and full of surprises, with a good sense of humor and a dry wit, which is what those who knew him will readily remember. He did well in everything he attempted and always gave 100%. Golf was a favorite pastime and he did quite well in it. Among other talents, he was an accomlished musician, self taught, writing and playing music and leading others in song. We will remember him always in all these things and thank God for the time we shared with him.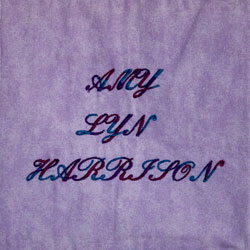 Quilt 8: Amy Lyn Harrison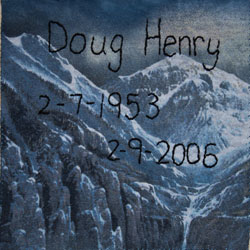 Quilt 8: Doug Henry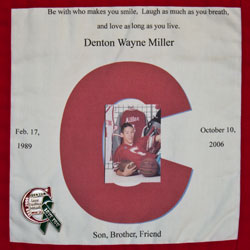 Quilt 8: Denton Wayne Miller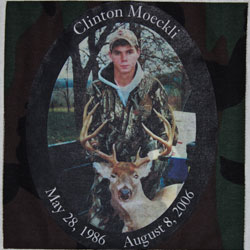 Quilt 8: Clinton Moeckli
05/28/1986 – 08/08/2006
Clinton or Clint as he preferred, was our son, our only child. He had just turned 20 on May 28th. He was 6'4″ tall and had the most beautiful blue eyes (very handsome young man), full of life and a bit of a rebel. He loved animals and the great outdoors. He liked playing sports, fishing and hunting. He was so proud of the deer he shot in November 2005 during deer season. I thank God for the memories and the awesome pictures. On August 5, 2006 he was riding on a 4-wheeler with some friends when he lost his balance and fell off the back hitting his head on the pavement. He cracked his skull and suffered severe head injuries. On August 8, 2006 he was pronounced brain dead. Three of the worst days of our lives, our world will never be the same! When the transplant coordinator approached us and asked if we had considered organ donation, we both looked at each other and said let him live on. That's when he told us that Clint had registered to be a Missouri organ, tissue and eye donor when he turned 16 and got his drivers license. We are very proud of him for that because it made the deciswion even easier. We have to believe that God had this all planned out. We received the most amazing letter from Clint's pancreas recipient. We had to share it with family and friends, hoping it would inspire them to become organ donors. We ask God to bless each and every one of his organ, tissue and eye recipients. They posses a part of him that will always be a part of us and we want them to know that every time we pray for Clint, we pray for them.
Parents, Dan & Ann Moeckli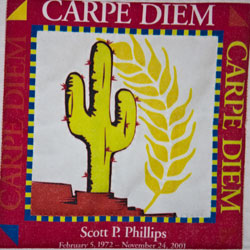 Quilt 8: Scott P. Phillips
02/02/1972 – 11/24/2001
Scott Patrick Phillips was born on February 2, 1972 and his life was cut short on November 24, 2001. Scott was born in Newton, Kansas and graduated from Kansas State University. The wheat on the square represents his home state and where his roots began. Scott moved to Scottsdale, Arizona after graduation and quickly fell in love with his surrroundings. While there he made many friends and life-long relationships. The cactus represents his love for Arizona. In high school Scott was involved in STUCO and was a motivational speaker for middle and high school students, while in college. A quote he used to inspire kids was "Carpe Diem" which in latin means "Seize the Day." Scott used this quote in speeches and it became our family mantra. Not a day goes by that we don't think of Scott, but knowing he gave the "gift of life" gives us courage and motivation to tell his story. We miss you and love you Scott.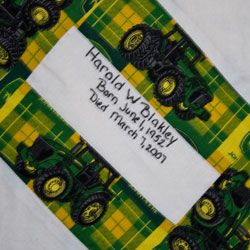 Quilt 8: Harold W. Blakley
06/01/1952 – 03/07/2007
Harold was a loving Husband, Dad, Son, Brother and most important to him a very loving Grandpa of 9 beautiful Grandchildren. He was a toy tractor collector and hoped to leve them to his grandkids one day. This has to be the best legacy he could have left his loved ones that he could donate and help others maintain a more healthy life. We will always be so very lucky to have had him in our lives and be proud he could help others even in death.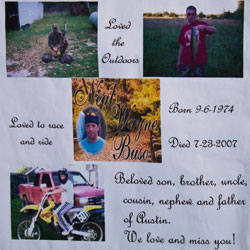 Quilt 8: Neal Wayne Buso
09/06/1974 – 07/23/2007
This quilt square was made in loving memory of our son, brother, uncle, nephew, cousin and daddy. He blessed our lives in so many ways. He was his sister's best friend and protector, his brother's friend and fishing buddy, and his mother's helper and beloved first born. He shared his father's love for racing (anything) and they spent many days watching and talking about it. Neal's nieces and nephews loved to be with him because he played and romped with them. He deeply loved and was loved by his beautiful little boy, Austin. He took fatherhood extremely serious and that made us very proud of him. His passion in life was racing. Starting with 4-wheeler racing as a 12-year-old, then motorcycle by high school and as an adult he raced hobby stock and go-carts. He even raced online; designing his own cars and trucks, and was known as "the flying mullet," once winning a national championship. He was a fun, kind and loving person having many, many friends. There isn't a moment in the day we don't think of him and miss him.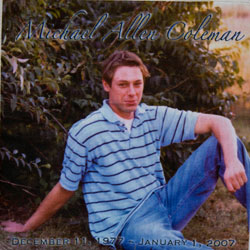 Quilt 8: Michael Allen Coleman
12/11/1977 – 01/01/2007
Michael Allen Coleman was 29 years old when he died on January 1, 2007 after a car accident. Michael was loved so much by all who really knew him. He is thought of and missed by loved ones every day. Michael was very generous and gave freely. He loved fishing and outdoor activities. Michael has a five year old son, Michael, five sisters and one brother. Michael was a comedian and loved to tease. We have happy memories of his antics and how he got through situations that would have daunted most of us. God bless him.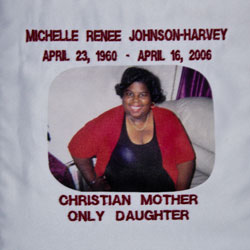 Quilt 8: Michelle Renee Johnson-Harvey
04/23/1960 – 04/16/2006
A forty-five year old only daughter, mother, aunt, niece, and cousin loved so very much! As a daughter, she was my best friend, my protector, my inspiration and confidant. A loving Christian that could fill a place with her humor. Michelle lived life boldly and adventurous. She was a character artist with plans to expand her characters into a business. She was thoughtful, loving, stylish, and giving. Her smile and personality could warm any heart. She was the best mother of two daughters, any girl could want!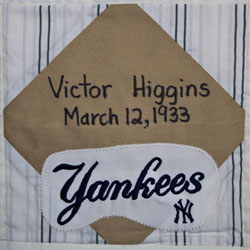 Quilt 8: Victor Higgins
03/12/1933 – 10/26/2006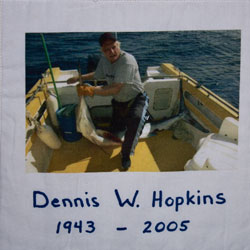 Quilt 8: Dennis W. Hopkins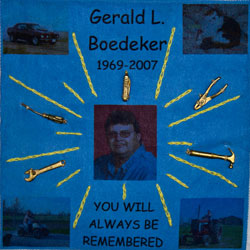 Quilt 8: Gerald Laurence Boedeker
03/24/1969 – 05/13/2007
We used one of Gerald's tee shirts for this square. He was a Tool and Die maker and received a gold medal for his meticulous daily work for saving the company thousands of dollars. When he was fourteen he bought a 1969 Mustang and refurbished it by graduation. He was married and had one daughter, lived on a farm and loved trail riding on horses and ATV's with family and friends. One of his pride and joys was a 706 Farmall International tractor that he had put a lot of TLC into. Knowing that Gerald was able to give the "gift of life" gives our family courage and motivation to tell his story. We ask God to bless every one of his organ, tissue and eye recipients.
Parents, Joe and Charlotte Boedeker & Tim Wife and Daughter, Kim and Katlyn Boedeker Sister, Cindy, Jimmy and Hunter Stivers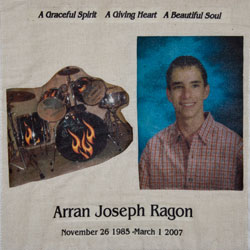 Quilt 8: Arran Joseph Ragon
11/26/1985 – 03/01/2007
Our son Arran was a very special person. He had a graceful spirit, he always saw the good in everyone he met. If I said something about his friends he would say, "I know Mom, but he's my friend." Arran had a giving heart. He registered to be a donor at 18 years old. Everyone knew they could call him for help. He never said no. Arran had a beautiful soul. He loved the Lord. Sometimes he struggled with this. His beautiful smile was always there when anyone needed it along with a hug and an "I love you." He was funny. You couldn't be sad when he was around. He was fearless. Arran once brought home a live rattlesnake, carried it in his truck to show everyone. It was in a see through tub. His Dad put it in the freezer one day while he was at work. Arran was a talented drummer. He played in the marching, concert and jazz bands all through high school and later in a gospel band that traveled to different churches. He rode a 4-wheeler on its back tires across our field. He played basketball, loved to ski and wakeboard, fish and deer hunt. Arran left behind his Mom and Dad, two older brothers, a sister, two nephews and two nieces. We all miss him terribly and will love him forever.
Arran's Mom, Kaye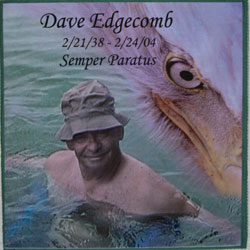 Quilt 8: David A. Edgecomb
02/21/1938 – 02/24/2004
David was a wonderful man. He was always there to lend a helping hand; he was practical as well as having a sensitive side; animals and nature gave him great joy; he was truly a gentleman and inspired so many; he was slow to anger, quick to smile and very aware of others' needs. Much thought and work went into anything he tired to achieve. Besides keeping busy with children and grandchildren, David designed and built a family home on Table Rock Lake. Woodworking, family boating, water activities and barbecuing were some of his favorite things.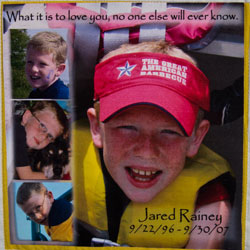 Quilt 8: Jared Rainey
09/22/1996 – 09/30/2007
OUR LITTLE CROSSING GUARD INTO THE GATES OF HEAVEN
Jared was eleven, full of energy, spunk, love, kindness, and very mischievous. He had many friends in the 5th grade. No one could help loving Jared with his blue eyes, blond hair and a face full of beautiful sun kissed freckles. He was proud of being a crossing guard worked hard keeping his grades up and was awarded the honor of being an academic scholar. Jared loved baseball, football, swimming, bike riding, camping, fishing and music. Knowing he is living in others bring peace to his family.
GOD SPEED LITTLE MAN, REST IN PEACE!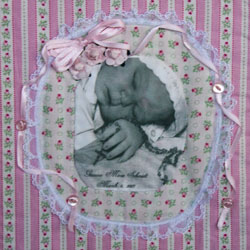 Quilt 8: Gianna Marie Schmidt
03/05/2007 – 03/05/2007
Our sweetheart, Gianna Marie Schmidt, peacefully passed into eternal life only thirty minutes after her birth on March 5, 2007. She was beautiful, weighing 7 pounds, 6.5 ounces and measuring 18 inches. Our family cherishes the time we shared with Gianna during the pregnancy and the precious time she had after her birth. We celebrate her baptism and the abundant kisses, cuddles and tickles showered upon her by her two adoring big brothers. Baby Gianna is truly a gracious gift from God! We are happy that her heart valves can be used for donation and hope they can help restore other children to health.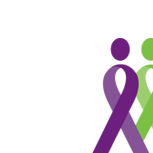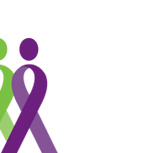 Quilt 8: Eric David Massey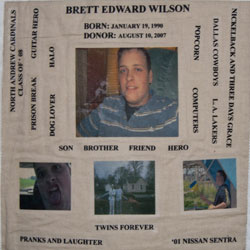 Quilt 8: Brett Edward Wilson
Quilt 8: DeMarco J. Harvey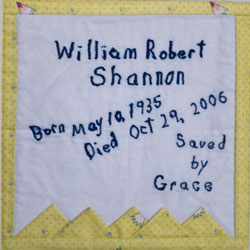 Quilt 8: William Robert Shannon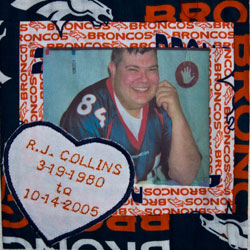 Quilt 8: R.J. Collins
03/19/1980 – 10/14/2005
In loving memory of Richard J. "RJ" Collins. Loving Brother, Son and Uncle. RJ enjoyed life and his passion was speding time with family, his parents, sisters and nephews. He really enjoyed being an uncle to two very wonderful little boys, Dylan and Colton. RJ had another passion, which included rooting for the Denver Broncos, especially when Terrell Davis and John Elway played. Hel also enjoyed playing baseball, football, and watching hockey. He just enjoyed life in general. RJ was the type of person that would give you the shirt off his back just too bad that no one would ever give him a chance to do it. Unfortunately, RJ lost his life at the young age of 25 in a very tragic car accident in Dodge City, KS on Friday, October 14, 2005. This was a life of a brother, son, uncle and grandson who was loved dearly by his beloved family. He will never be forgotten. We love you and miss you very much.
Love Always, Mom and Dad Becky, Travis, Dylan, Colton and Hannah Colleen and Mike Grandma Elsie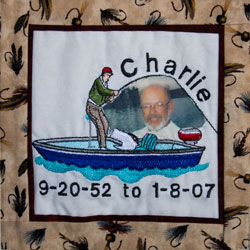 Quilt 8: Charles L. Wakefield
09/20/1952 – 01/08/2007
Charlie, a devoted and loving husband, lived his dream after purchasing our country home in 1999. There was timber, wildlife and a large pond for this avid deer hunter and fisherman. He loved to take walks every morning with his cup of coffee. Charlie also loved to spend hours in the kitchen inventing new recipes to try out on the family. We enjoyed sharing each new dish. A big hearted man, Charlie was generous and giving, especially to those closet to him. He is truly missed.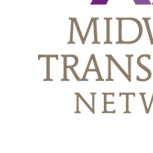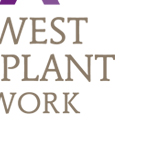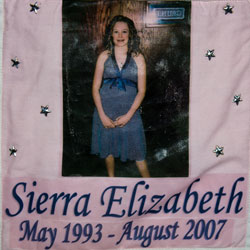 Quilt 8: Sierra Elizabeth Gaunt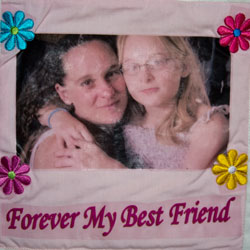 Quilt 8: Sierra Elizabeth Gaunt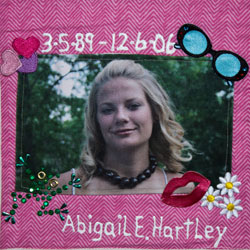 Quilt 8: Abigail E. Hartley
03/05/1989 – 12/06/2006
Our Abigail Elizabeth Hartley was born March 5, 1989 and died in an automobile accident on December 6, 2006. Abbie was a beautiful sweet girl whose life was cut way too short way too soon. We lost many things that day, a daughter, a sister, a granddaughter, a niece, a cousin and a very dear friend. One thing we miss the most was Abbie's hugs. She freely gave them away to everyone. An avid sunglass collector, they say she owned at least a hundred pairs. She loved frogs! Occasionally she'd bring her Mom flowers to say "I Love You". Abbie aspired to be a runway model. Our sweet Abbie now walks the paths of heaven. She lives on in our hearts forever.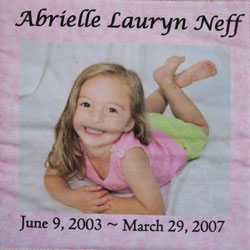 Quilt 8: Abrielle Lauryn Neff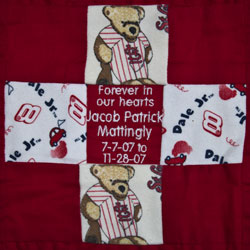 Quilt 8: Jacob Patrick Mattingly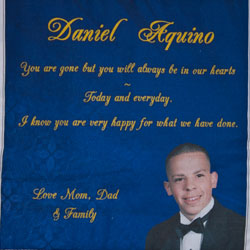 Quilt 8: Daniel Aquino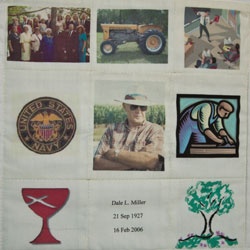 Quilt 8: Dale I. Miller
Dale LaVerne Miller exemplified a life of service, patience, and dedication. He could be depended on to take action where needed. He learned patience through farming, parenting, and years of service to his church and schools. His interests gave service to others; through woodworking he remodeled, repaired, and created a myriad of beautiful objects. His love of nature encouraged him to plant thousands of trees, bushes, gardens. Even his death brought fuller life to others. A young man said it best: "The whole community is going to miss Dale and all he did".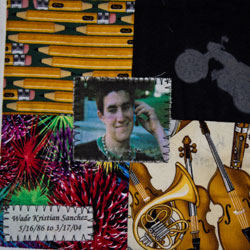 Quilt 8: Wade Kristian Sanchez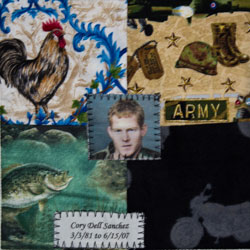 Quilt 8: Cory Dell Sanchez
March 3, 1981 – June 15, 2007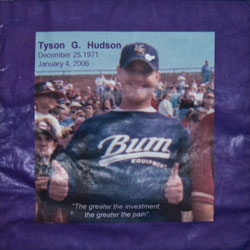 Quilt 8: Tyson G. Hudson
12/25/1971 – 01/04/2006
Tyson G. Hudson was a gift from God, who loved and lived life to the fullest. He was an avid K-State football fan and enjoyed planning tailgate parties for family and friends; he also took on the responsibility of planning our annual family camping trip. Ty loved to cook and had established his own business and called it Eighty Two BBQ, he was well known for his beef jerky. Tyson's laugh was one of his greatest assets and was a people person that never met a stranger. Tyson will live in our hearts forever. We love you.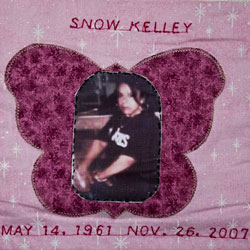 Quilt 8: Snow Kelley
Snow's life was always struggle. Early in her life she lived in a neglectful home. Snow went into a foster home and when she was 10 years old she was placed with an adoptive family. In adulthood, Snow had many health issues. With all the stresses adn problems in life, Snow was always positive, friendly, and outgoing and caring person. She did not give a second thought to helping others in need. She was not perfect but her sudden death left a hole in the hearts of her natural siblings, her nephews, her children and her adoptive parents that will never be filled. With the donation of her organs, Snow's life will continue to live on through others.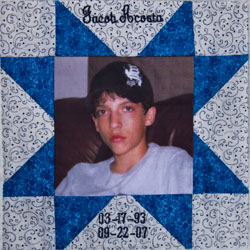 Quilt 8: Jacob Acosta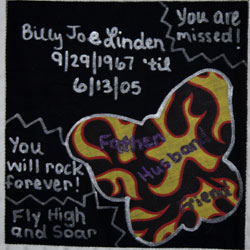 Quilt 8: Billy Joe Linden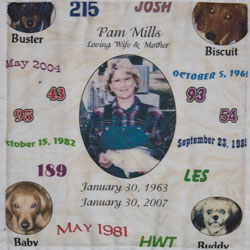 Quilt 8: Pam Mills
This quilt piece is a tribute to the memory and honor of Pamela S. Mills, a loving daughter, wife and mother.
October 5, 1961: Les' date of birth
May 1981: Pam's graduation
October 15, 1982: Marriage date
September 23, 1985: Josh's date of birth
May 2004: Josh's graduation
189, 215,&HWT: Josh's wrestling
#54, #43, #95 & #93: Jos's football
Pets: Buddy, Buster, Baby & Biscuit
Pam is a very special person who touched and influenced numberous lives. Pam will always be remembered for her unconditional love of animals, special needs children, youth and senior citizens.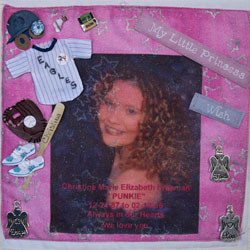 Quilt 8: Christine Marie Elizabeth Freeman
Christina lived 18 wonderful years, she is the light of my life. Christina has eleven brothers and sisters all who miss her very much. Christina loved to play softball and basketball. She was taken from us way too early in life. We will always remember Christina and a piece of us went with her. Christina chose to be an organ donor early in her life as she was always helping someone. The woman who receiveed Christina's heart is a truly amazing woman. She calls Christina her Angel. It gives us a bit of comfort to know her and to know Christina helped so many people even in death. Please don't drink and drive as a drunk driver took Christina from us.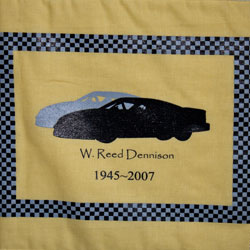 Quilt 8: W. Reed Dennison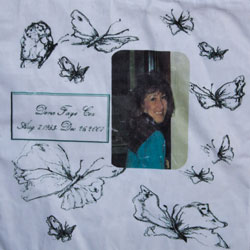 Quilt 8: Dena Faye Cox
08/07/53 – 12/26/2007
Dena is that special friend that so many of us never find. She was that daughter who loved her parents, family and friends. Managing her disease unselfishly, never blaming someone else for her misfortune, that dedicated employee on the job regardless of circumstances, striving for perfection, never wanting recognition, making you laugh, being sincere and tackfully expressing in her thoughts. Dena leaves us memories and unslefish love all daily reminders of her genuine true person. She has taught us that we are better to have had her love. She was a blessing and will always live within our hearts.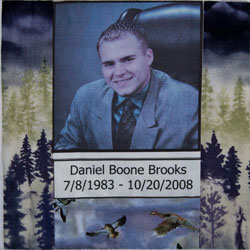 Quilt 8: Daniel Boone Brooks
07/08/1983 – 10/20/2008
Our son, Daniel, was a very loving, kind hearted young man. We remember Daniel as such a beautiful little boy. So very active loving to play baseball, football, and he had a love for fishing that lasted throughout his live. Daniel was always eager to help anyone in need. It is no surprise to us he signed his driver's license as an organ donor. He would be very exicted that he was able to help other people live a more productive life. We love you Daniel!! We miss you always.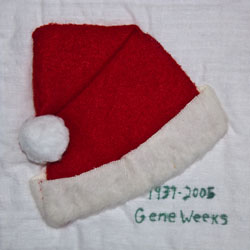 Quilt 8: Byron Gene Weeks
03/04/1937 – 11/18/2006
SANTA. No matter how many sat on his knee He always was giving because you see He was SANTA. It didn't matter if home or in store He always was giving and then giving more He was SANTA. When disease took his health He no longer could be He gave his eyes so someone could see In death…he was SANTA. Norma Senter for my Brother Gene Weeks