At Midwest Transplant Network, we proudly work with donor families to create quilts in honor of loved ones who have given the gift of life through organ donation. These beautiful tributes to lifesaving donors travel with us to events throughout Kansas and western Missouri. They are a powerful symbol that helps raise awareness about organ, eye and tissue donation while honoring those individuals who have given gifts of life. View our donor memorial quilts below.
In order to be included in our Donor Memorial Quilts, quilt squares must meet specified guidelines. For more information, please contact us or view our FAQs.
Quilt 11
Scroll sideways to view whole quilt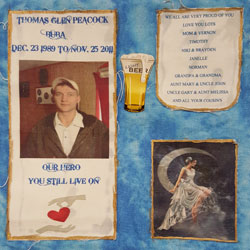 Quilt 11: Thomas Glen Peacock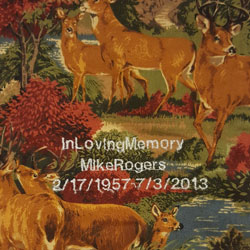 Quilt 11: Michael Rogers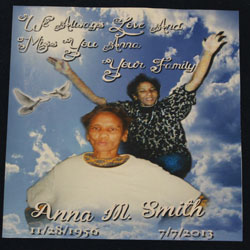 Quilt 11: Anna M. Smith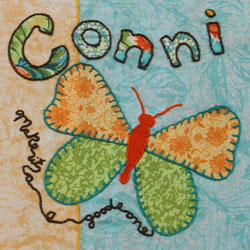 Quilt 11: Connie Kline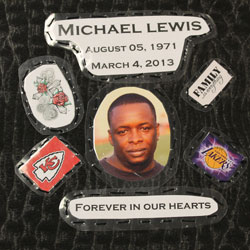 Quilt 11: Michael Lewis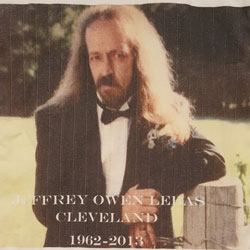 Quilt 11: Jeffrey Owen Lewis Cleveland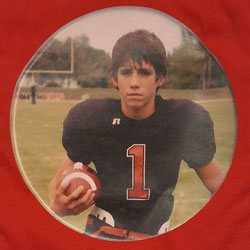 Quilt 11: Nicholas John Lee Frazer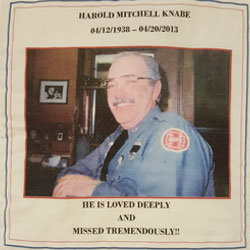 Quilt 11: Harold Mitchell Knabe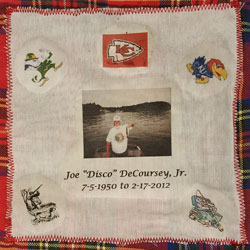 Quilt 11: Joseph A. DeCoursey, Jr.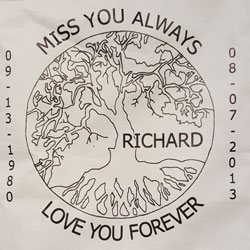 Quilt 11: Richard Lindstrom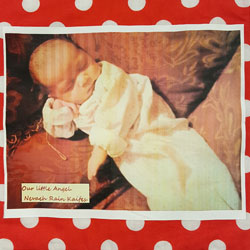 Quilt 11: Nevaeh Rain Kaifes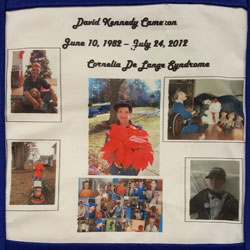 Quilt 11: David Kennedy Cameron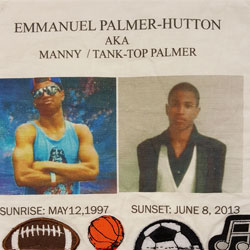 Quilt 11: Emmanuel Palmer-Hutton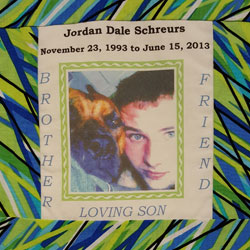 Quilt 11: Jordan Dale Schruers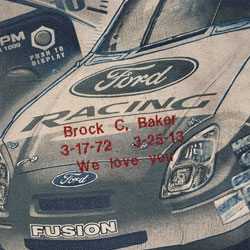 Quilt 11: Brock C. Baker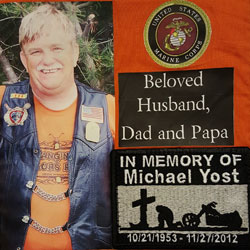 Quilt 11: Michael Yost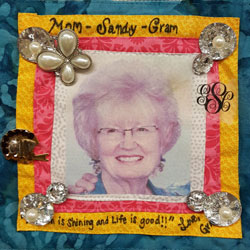 Quilt 11: Sandra Cull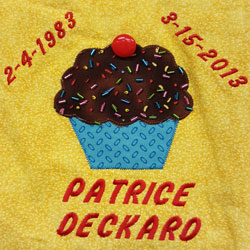 Quilt 11: Patrice Deckard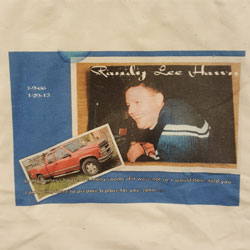 Quilt 11: Randy Lee Hawn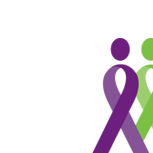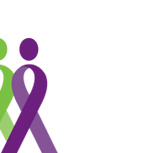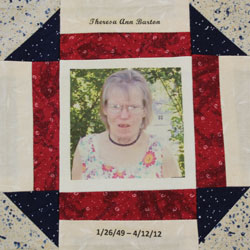 Quilt 11: Theresa Barton
Theresa was a gentle soul that had a hug for everyone she met. She loved singing whether it was with the radio or at karaoke. She loved looking at pictures of days gone by, to reminisce about remember when. Family was very important to her. She was a mother of five. She was preceded in death by her infant son Joseph and is survived by son Glen, daughter Montie, Cathy and Elizabeth. We laid her to rest with baby Joey and like it says on their tombstone: "Mother and son together for eternity." We miss her very much but it is a comfort to know that several people have benefited from her donation. God bless those that received her organs and may God giver her hugs from us every day. Love you and think of you every day sister!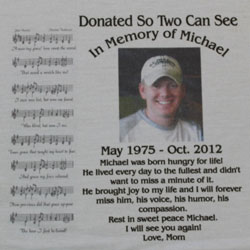 Quilt 11: Michael Lynn Wood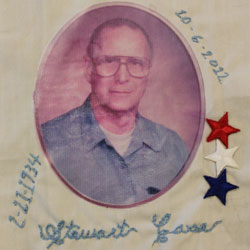 Quilt 11: Stewart Wallace Case
Sometime during the year 1957, my mother invited a tall thin young man to Sunday dinner. He was one of her co-workers at Bendix, and was new to the area. He brought many classical records to share. Mom, Dad, Stu and I talked for many hours with a musical background. He had a beautiful smile and a hearty laugh, appreciated good music and told interesting stories. We were beyond impressed with this Renaissance man who joined our family on June 27, 1959.
He was a loving husband, father, and son-in-law, an accomplished artist, an athlete, always optimistic, well mannered, capable of repairing anything, a hard worker, and always congenial. Our minds replay what our hearts cannot delete—his guidance, smile, companionship, and love.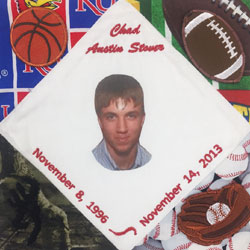 Quilt 11: Chad Austin Stover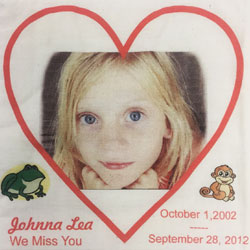 Quilt 11: Johnna Lea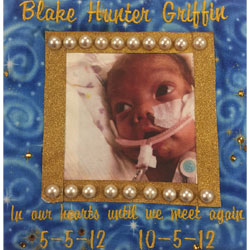 Quilt 11: Blake Hunter Griffin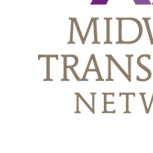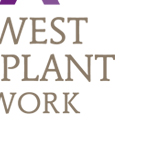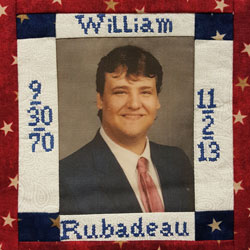 Quilt 11: William Rubadeau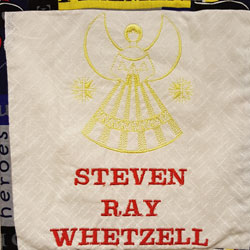 Quilt 11: Steven Whetzell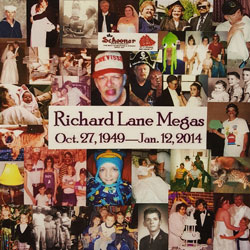 Quilt 11: Richard Lane Megas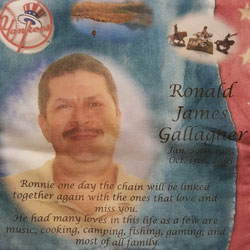 Quilt 11: Ronald James Gallagher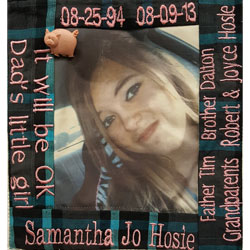 Quilt 11: Samantha Jo Hosie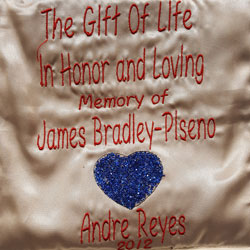 Quilt 11: James Bradley-Piseno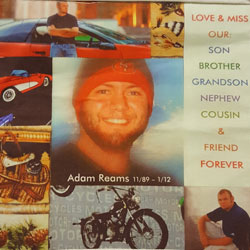 Quilt 11: Adam James Reams
11/24/89-1/23/12
Adam was born on November 24, 1989, with a birthmark referred to as "an angel's kiss" on the back of his head. We could not imagine that would symbolize he would become an angle way too soon. Words cannot describe Adam or how much we miss him – his smile and laughter, the twinkle in his eyes, and his fun-filled mischief. This quilt square, however, represents what Adam loved in life-family, friends, outdoor sports and activities, motorcycles and cars. Adam was an intelligent, loving person who was willing to try new things in a quest to live life to the fullest and he encouraged others to do the same. Adam loved to make people laugh and meet new people-one of his favorite sayings was, "A stranger is just someone you haven't said 'hi' to yet." Adam started college to be an engineer, but his zest to help others led to him nursing just weeks before he passed. Adam encouraged others to be donors and would be so honored that he has helped so many others.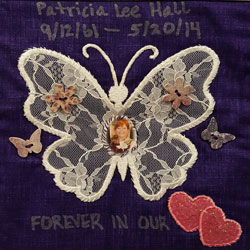 Quilt 11: Patricia Lee Hall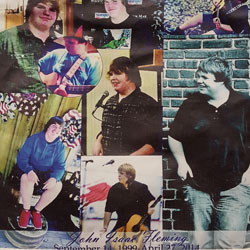 Quilt 11: John Isaac Fleming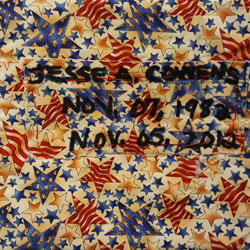 Quilt 11: Jesse Cowens
11/07/1982
Born in KC, MO, graduated from Central High School in 2001. He served in the military, both Navy and Army Reserves, serving a tour in Bahrain. Jesse is truly missed by everyone.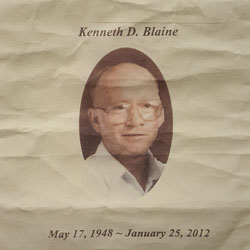 Quilt 11: Kenneth D. Blaine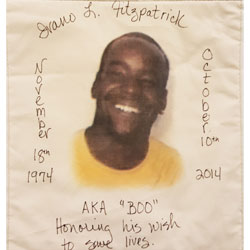 Quilt 11: Ivano Fitzpatrick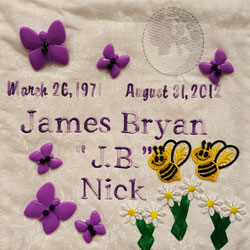 Quilt 11: James Bryan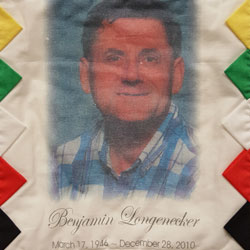 Quilt 11: Benjamin Longenecker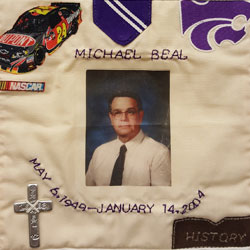 Quilt 11: Michael Beal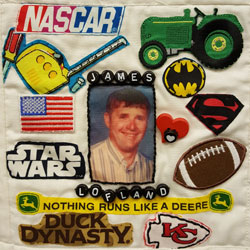 Quilt 11: James Lofland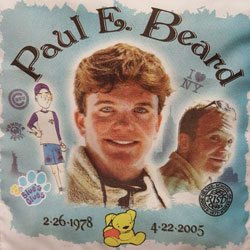 Quilt 11: Paul Edward Beard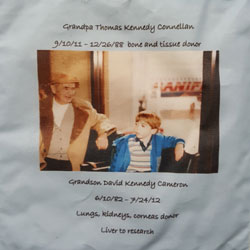 Quilt 11: Thomas Kennedy Connellan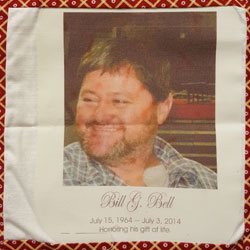 Quilt 11: Bill Bell